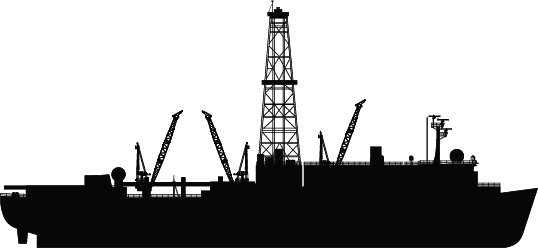 JR Profiles Episode 7: Aggeliki Georgiopoulou – Marine Geologist
I got to sit down with science party member Aggeliki Georgiopoulou, a structural geologist from Ireland, to learn about what a marine geologist does. Watch the interview here and learn about geology careers at sea!
Aggeliki is originally from Greece and has translated her answers into Greek for us!
Πες μας λίγα πράγματα για τον εαυτό σου:
Με λένε Αγγελική Γεωργιοπούλου, όλοι με φωνάζουν Άγκυ, που είναι πιο εύκολο για τους μη ελληνόφωνους φίλους και συναδέλφους, αλλά το είχα πάντα αυτό το υποκοριστικό, η μαμά μου μου το έδωσε. Είμαι από την Πάτρα, εκεί μεγάλωσα και σπούδασα, εκεί ζουν οι γονείς μου κι εκεί γυρνάω κάθε καλοκαίρι και Χριστούγεννα. Έχω κάνει σπίτι μου πολλά μέρη, αλλά τα τελευταία 8,5 χρόνια το σπίτι μου είναι στο Δουβλίνο της Ιρλανδίας. Είμαι Λέκτορας Ιζηματολογίας στο University College Dublin, School of Earth Sciences και η έρευνά μου είναι στη Θαλάσσια Γεωλογία και πιο συγκεκριμένα στις διεργασίες υποθαλάσσιων κατολισθήσεων. Γιατί συμβαίνουν, πώς κινούνται, γιατί κάποιες πλαγιές είναι πιο πιθανές να κατολισθήσουν, πόσο επικίνδυνες είναι, κάθε πότε συμβαίνουν και σε τι διαστάσεις, είναι μερικές από της ερωτήσεις που προσπαθώ να απαντήσω.
Περίγραψέ μας μια τυπική μέρα στη δουλειά. Τι κάνεις σε καθημερινή βάση;
Η καθημερινότητά μου εξαράται από τον αν είμαστε σε εξάμηνο με μαθήματα ή εκτός. Κατά τη διάρκεια του εξαμήνου ο περισσότερος χρόνος μου πάει στους φοιτητές, στην προετοιμασία μαθημάτων, εργαστήρια, διαλέξεις, ασκήσεις υπάιθρου, διορθώσεις, κλπ. Εκτός εξαμήνου είναι οι περίοδοι μου κάνω όσο περισσότερο μπορώ για την έρευνά, δηλαδή το καλοκαίρι και στις γιορτές. Τότε προσπαθώ να έχω τις ερευνητικές μου κρουαζιέρες, να γράψω άρθρα προς δημοσίευση, να ετοιμάσω προτάσεις για χορηγίες, κλπ.
Ποιες θα έλεγες είναι οι μεγαλύτερες προκλήσεις στο επάγγελμά σου;
Μια διαρκής πρόκληση είναι ότι είναι ακριβή η έρευνα που κάνουμε. Το καθημερινό κόστος των ερευνητικών πλοίων είναι πολύ μεγάλο και από το να γράψεις μια πρόταση μέχρι να περάσει από κρίση, να χρηματοδοτηθεί, να προγραμματιστεί και να λάβει χώρα μπορεί να περάσουν χρόνια. Από αυτές τις εκστρατείες όμως παίρνουμε το υλικό μας και τα δεδομένα μας για να κάνουμε έρευνα. Δεν έχουμε τη δυνατότητα ανα πάσα στιγμή να πάρουμε το σφυρί μας, το σακίδιό μας και να βγούμε ύπαιθρο όπως άλλοι γεωλόγοι. Μία άλλη πρόκληση είναι η έλλειψη σιγουριάς. Μπορεί να περάσεις πολλά χρόνια από συμβόλαιο σε συμβόλαιο, από σύμβαση σε σύμβαση και να πρέπει να μετακομίσεις πολλές φορές, το οποίο μπορεί να είναι ευχάριστο όσο είσαι νέος αλλά από κάποια στιγμή και μετά θες να μείνεις σε ένα μέρος για παραπάνω από δύο χρόνια και να μη χρειαστεί να αποχαιρετήσεις άλλους φίλους κι αγαπημένους ανθρώπους.
Τι αγαπάς πιο πολύ στο επάγγελμά σου;
Πιο πολύ από οτιδήποτε άλλο αγαπώ τη θάλασσα, τον ωκεανό, το να είμαι σε αυτά τα ερευνητικά καράβια για εβδομάδες με τον ωκεανό γύρω μου! Δε μπορώ να περιγράψω τι συναισθήματα μου δίνει η απεραντοσύνη αυτής της θάλασσας κι ότι είμαστε εξερευνητές της μοντέρνας εποχής. Είμαστε οι πρώτοι που βλέπουν αυτά τα πράγματα, τα φέρνουμε στην επιφάνεια για να τα δείξουμε σε όλο τον κόσμο, για να γνωρίσει όλος ο κόσμος τον πλανήτη μας καλύτερα. Επίσης το να γνωρίζω όλους αυτούς τους καινούργιους ανθρώπους με τα ίδια μυαλά και το ίδιο πάθος για τη θάλασσα και την επιστήμη (σπασικλάκια με παρέα δηλαδή χαχα) και που τις περισσότερες φορές τυχαίνει να έχουμε κοινούς φίλους και γνωστούς, γιατί ο κόσμος μας είναι μικρός, πολύ μικρός.
Τι είναι ένα πράγμα που έμαθες και θα ήθελες να ήξερες πριν ξεκινήσεις αυτή τη δουλειά;
Ότι θα υπάρξουν πολλές δυσκολίες, κυρίως με τις αλλεπάλληλες μετακομίσεις και την ανασφάλεια των αλλεπάλληλων συμβολαίων, και άντε πάλι από την αρχή να ξεκινήσεις την καινούργια σου ζωή. Υπάρχουν στιγμές που είναι πολύ δύσκολο αυτό και ξέρω πολλούς που εγκατέλειψαν την έρευνα για αυτόν ακριβώς το λόγο. Τα μακροσκελή συμβόλαια ή τα μόνιμα συμβόλαια (υπάρχουν ακόμα;) είναι σπάνια και οι απαιτήσεις διαρκώς αυξάνονται.    Αλλά βλέπεις και τους άλλους γύρω σου που ζουν το ίδιο και όταν πάνε οι ανασφάλειες να σε καταβάλλουν ότι «φταίς εσύ, ότι δεν είσαι αρκετά καλός», κλπ συνειδητοποιείς ότι δεν είσαι μόνη/ος σου κι ότι όλοι λίγο πολύ κάπως έτσι νιώθουν κι έτσι παρηγορούμε ο ένας τον άλλον κι είναι κι αυτό ένα ακόμα πράγμα που μας δένει, ζούμε τις ίδιες δυσκολίες και πρέπει να ανταποκριθούμε στις ίδιες προκλήσεις. Και μέσα σε όλο αυτό είναι καθησυχαστικό να ακούς μια καθηγήτρια με δεκαετίες εμπειρίας να σου λέει «σας νιώθω, σας καταλαβαίνω, σας συμπονώ, δεν ξέρω αν θα μπορούσα σήμερα να κερδίσω τη δουλειά που έχω με τα σημερινά δεδομένα», όπως μου είπε μια καθηγήτρια που συμμετέχει στην αποστολή μας. Αλλά είναι αυτός ο ωκεανός που δε σε αφήνει να τα παρατήσεις!