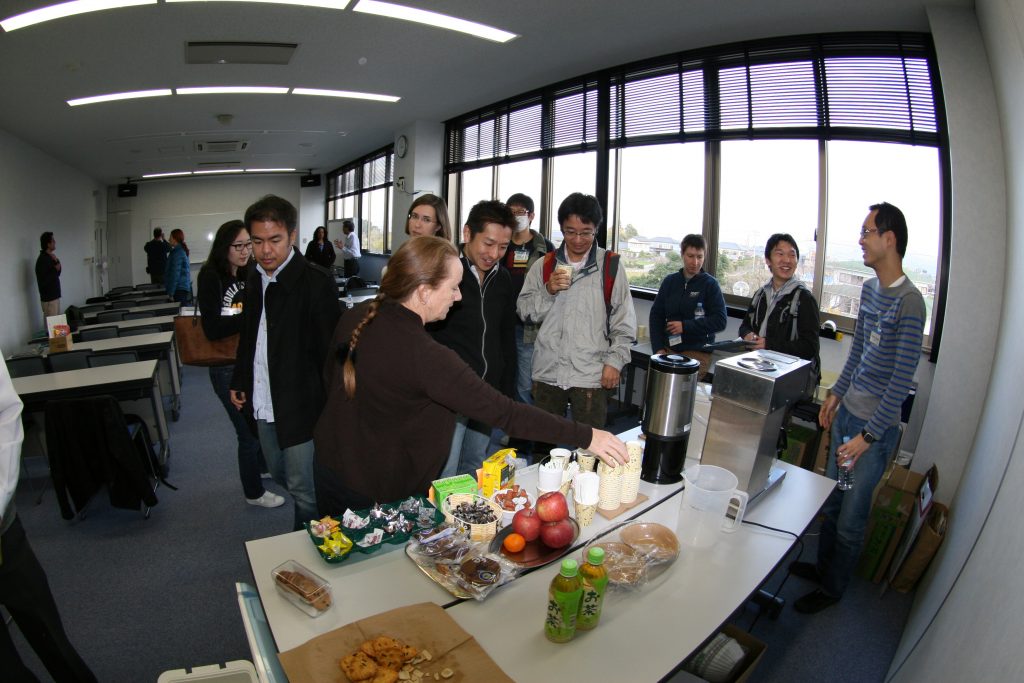 A Day in the Life of a Sampling Party
Each morning in Kochi we have breakfast at the Best Western Hotel in Kochi city. Aside from the fact that the signage is almost entirely Japanese, it could be a hotel anywhere in the world.  The rooms are a bit small compared to what I am used to.  There is little more in each room than the bed and a desk.  Breakfast is an assortment of breads and a few meats (link sausages and fresh ham).
We gather at 7:30 outside the hotel to catch the bus to Kochi University.  It is approximately a 45 minute ride through town. Town is covered with a variety of stores along one main strip of road.  There are many arcades.  McDonalds and KFC are the two notable fast food places.  There is a Harley Davidson shop.
When we arrive at the Kochi Core Center we enter and remove our shoes, exchanging them for our "indoor shoes".  We head upstairs to the Seminar Room (pictures above) and have snacks and coffee.  Afterwords we go back downstairs to the sampling room and go to work.  We take breaks as we are able, often between tables of cores that are removed and replenished.  For lunch we are able to eat at the student cafeteria.
Occasionally there are meetings to discuss specific areas of interest in the sampling, or specific samples requests that need to be added as we find them (ash layers, drop stones, laminations).
The remarkable team of scientists and the Kochi staff produce an incredible amount of samples during our 10 hour work day. When we wrap up at 6:30pm and head back to the bus which leaves at 7:00pm to take us back to the hotel.