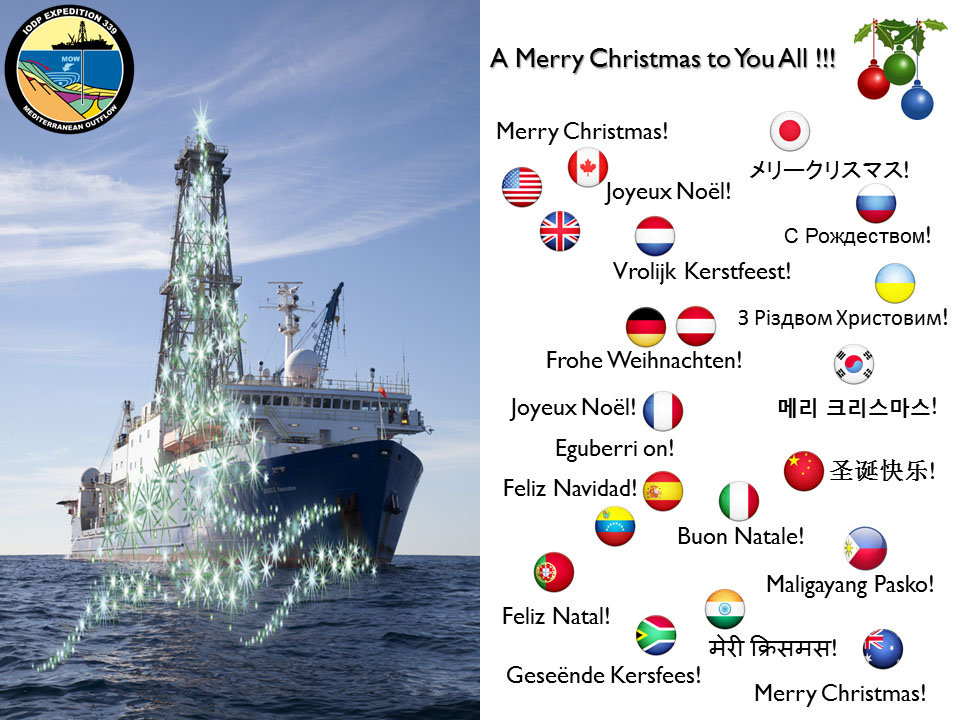 Even though we were all working on Christmas day, so we can get more cores on board and learn about the influence of the Mediterranean Outflow Water (MOW) on paleoclimate, we still had time to celebrate. We have people from 20 countries, and almost as many languages, on board the JR on Expedition 339 and most of them experienced the season in a whole new way for the first time.
Early in the morning I and my fellow Choir colleagues we went to Lab Stack, to the Captain's Bridge and to the Galley singing Christmas songs. We also had another performance during the afternoon Christmas party. The event also had some other special performances (Etienne and Theodoric impressed the audience with their magnificent voices, Chad also sang and played brightly his guitar, Hillary and Narciso danced in a much synchronized way, and we even had a special Canadian hey! skit played by Erik, Heather and Melissa) and a Secret Santa gift exchange.
And of course the food was also great! Chef Alex and his gifted team of Filipino cooks made a special Christmas dinner for us with different dishes that pleased all the participants. The Americans had the Alaskan king crab and roasted turkey, the Canadians had smoked salmon, the French had a special Châteaubriand stake, the Japanese enjoyed several kinds of sushi, the Spanish had their special "pata negra" prosciutto, and the Russians had potato salad and caviar… On Christmas Eve the Portuguese also had a nice meal that included the traditional "bacalhau" (cod fish). All the desserts were delicious and we also had fresh fruit that was brought by the Obama tug boat.
Although, we all miss our family and friends back home we were able to spend Christmas with a different family and new friends on the ship.
Another core coming to the catwalk
The JR Choir singing during the Christmas Party
Christmas Garden Mangee Table
Christmas Dinner Dessert Table