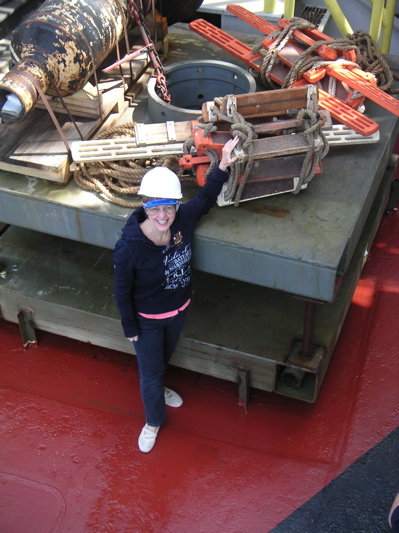 My first expedition began straightaway with a humiliating event. I was meeting the ship in Panama, where the science party was disembarking before a transit to Newfoundland and the beginning of the next expedition.
I arrived on time but my suitcase did not. I listened carefully to IODP's logistical personnel and the ship's agent. No worries, my bag would be delivered – just be ready to board the ship around noon the next day. It was September and I had worn a flowery cotton skirt. Someone loaned me a clean but large Aggie shirt and we left for the port, where I did not see the JR. Information came in dribs and drabs. "Stand here." "Give me your passport." "Step aboard this tender."
I had taken tenders to ships before and this usually involved a transfer via ladder or a swinging rope or other means that could not be accomplished with self-respect when wearing a flowery cotton skirt. When we located the ship, the drib drabs began again. "Put on this PFD." "Stand here on the rail." Ladies do not stand on the rail in a flowery cotton skirt. "Grab the rope ladder and climb." I climbed – feeling insecure and foolish. I knew the crew and techs would think the woman in the flowery cotton skirt climbing up the ladder was the dumbest person they'd ever seen board their ship. This was compounded when a bigger tender came out, the crew dropped the gangway, and the science party walked off the ship. And even more when we had a picnic, docked the JR, dropped the gangway again and WALKED off the ship to a local cantina.
One year later, in Mississippi, Captain Pete Mowat told me, "Leslie, we thought you were the dumbest person we had ever seen – climbing up that rope ladder in a flowery cotton skirt."