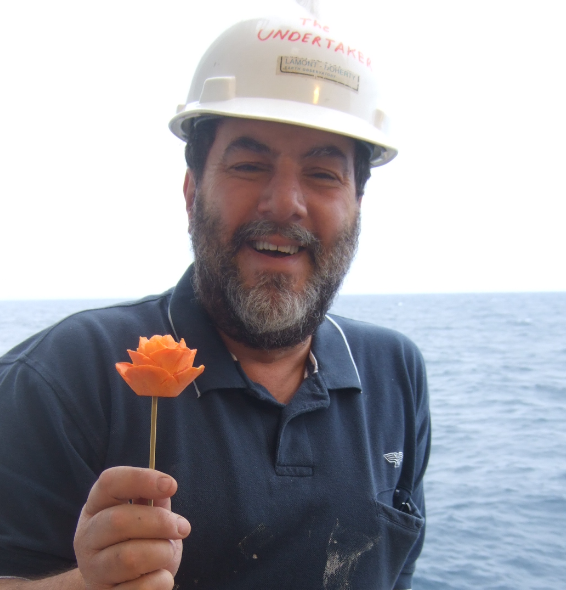 I love the way Bob (one of our amazing geomagnetists, who uncovers the history and magnetic secrets of the Earth by looking at tiny cubes of mud!) so willingly agreed to model this beautiful rose. What more fitting setting could there be? Here is an 'undertaker' (he has it written on his helmet!), in his hard hat, in the middle of the ocean, with a flower of remembrance!
This rose looks good enough to smell, but if you did, the scent would be a little odd for a flower, for this is a rose by another name! The aroma would be uncannily like a root vegetable. It is a very special rose indeed for it has been carved out of a carrot by one of our wonderful galley crew, to decorate some of the trays of food available in the mess! And they don't just stop at roses – oh no! They sometimes have swans and lotus flowers and all manner of abstract designs cut out of vegetable matter. If they do this to whet our appetites they are wasting their time, for the food that is served up 4 times a day is truly sumptuous and doesn't need these extra trimmings to tempt us! In fact the drilling crews positively dive into their meals without stopping to admire this handiwork, for their work is so physically demanding.
Before I left the shores of my home country I was still feeling the after effects of the Christmas holiday season. (Tight waistbands around my middle to be precise!) It was January 2nd when I found out I had been successful in my bid to come on this amazing adventure on the high seas. As a result, my normal New Year's resolution – to get fit and lose some of my excess weight – was put on hold in the belief that I would be able to lose weight while I was on the ship. I am a terribly fussy eater and I just knew that there would not be very much that I would want to eat and I would be working 12 hour shifts, seven days a week – the weight was just going to fall off – an added bonus for me! How wrong I was! I am struggling not to put extra weight on!
Paul Trainer, the Camp Boss, soon found out what I liked to eat and as soon as he sees me now, he gets something cooking that I just can't resist. But on top of whatever he cooks just for me, and the variety of main meals for others of a less fussy disposition, there is always a huge range of vegetables, potatoes, rice and lashings of cold, crunchy salad. Even if you just have a tiny bit of everything you fancy, your plate just ends up piled high! This is on top of the wonderful soups to begin your meal, and amazing deserts in the chiller cabinet to finish it off. And as if this isn't enough, there is a soft ice-cream machine and 24-hour, help-yourself, home-cooked range of buns, cakes and biscuits to devour in the between-meal-time cookie breaks if you feel a bit peckish! And then there is the fruit…….
Nothing is too much trouble for these guys (they are all men): if you want something, you just ask and they will get it for you – and their service is always with a smile! I have been told by veterans of marine geoscience expeditions that in terms of the domestic and catering staff, this trip is exceptionally pleasant, so I guess I was just lucky twice over to get the opportunity to come on the JOIDES Resolution, and to land up with this particular crew.
Thanks guys!