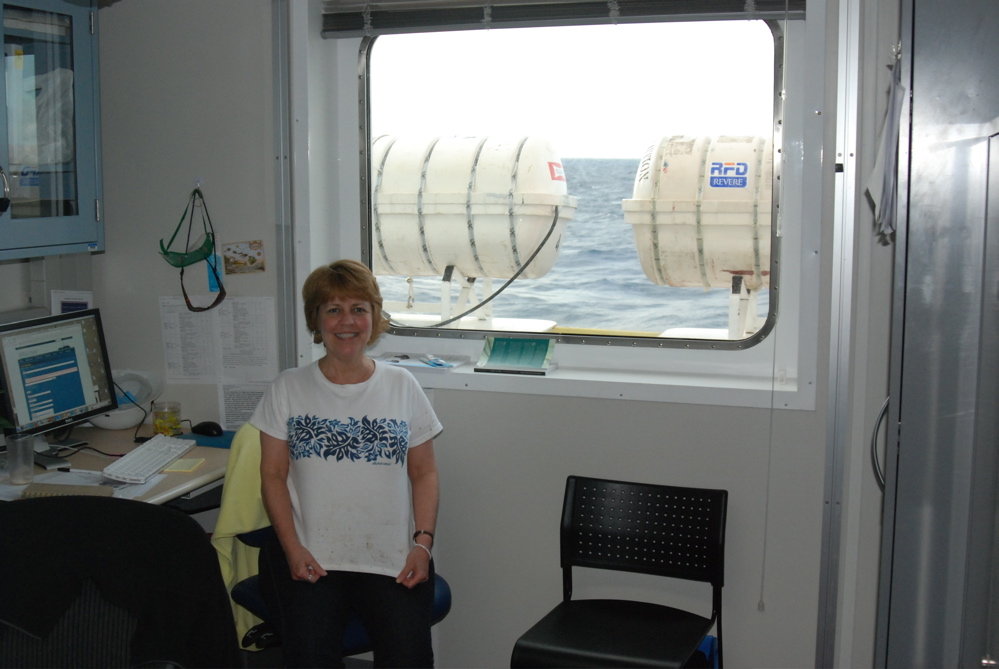 A Week of Fun and Discovery
Thanks to the contributions of content and blogs from so many of my colleagues, I haven't had time to write my own.   Every day is packed with surprises and new and exciting learning opportunities.  Every day is filled with awe and wonder; I can see the blue Pacific so close to my office window, or step outside to read or write or watch for core on deck.  I am so delighted to be here, and it seems the whole ship is pleased to help with our website.  Like everything else on The JR, this has become a true team effort.
The swells are a little gentler this morning and the sky is overcast.  We're close to the equator — but we're never, ever hot — not with this breeze (See Ron's dailies).  Bill is busy with photos and video.  Mike Hodge is in our office working on the network for live video and there's really no room for me to work.  So I'm standing at the port rail, fresh coffee in hand, rubbber bands on my notebook to keep the pages from flying as I record my thoughts.  In the words of a friend at home (and he knows who he is), "It doesn't get better than this."  Really, it doesn't.
Better go — Peggy and Ken need a hand in the chem lab
Leslie
P.S.  Coming Soon:  Blogs from Heiko, more from Jerry, new content and video on the Expedition 320 page, a site survey challenge activity, and videos from Thomas, Peggy and the paleo palace crew!
P.S.S.  This week I learned to cut and split core, and to grind and prepare carbonate samples.  Yahoo!
Photo:  Baptism by mud:  Me by our window with 50,000,000 year old mud on my shirt after cutting my fist core at Site U1332A.