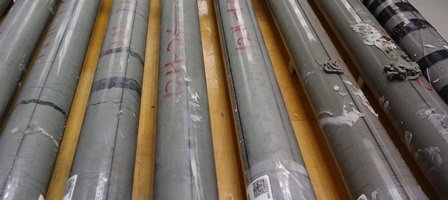 Are you sure you don't need to wear eye protection?!
Sometimes certain cores have high gas contents, probably as a result of high productivity conditions and organic material, and present some challenges. As you know the pressure increases with depth and when we recover the cores from the sea floor and bring it up to the catwalk there is a significant decrease of pressure. Due to that sudden release of pressure the cores tend to expand and some may even 'explode'. To avoid this technicians drill holes in the core liner to release the pressure, but sometimes the gassy cores may explode out of the drilled hole of the liner. Thus from time to time some technical crew members, like Sandra this morning, are victims of 'exploding cores'. That's one of the reasons why it is a good idea to wear safety glasses aboard the JR.
Por vezes certos testemunhos de sedimentos têm um elevado conteúdo de gás, provavelmente como resultado de condições de alta produtividade e da acumulação de matéria orgânica, e apresentam alguns desafios para quem tem de lidar com eles. Como sabem a pressão aumenta com a profundidade e quando recuperamos os tarolos do fundo do mar e os trazemos até à superfície há uma diminuição significativa da pressão. Devido a essa libertação repentina de pressão os tarolos de sedimentos tendem expandir-se e alguns podem mesmo "explodir". Para evitar esta situacão os técnicos perfuram o tubo de PVC em que estão armazenados os sedimentos por forma a libertar a pressão, mas mesmo assim às vezes os testemunhos de sedimentos mais ricos em gás acabam por "explodir". Assim, por vezes, alguns membros da equipa de técnicos a bordo do JR, como foi o caso da Sandra esta manhã, são vítimas dos 'tarolos que explodem'. Esta é uma das razões pelas quais é uma boa ideia usar óculos de segurança quando lidamos com os tarolos a bordo do JR.
Credit: Alexa Tzanova/IODP