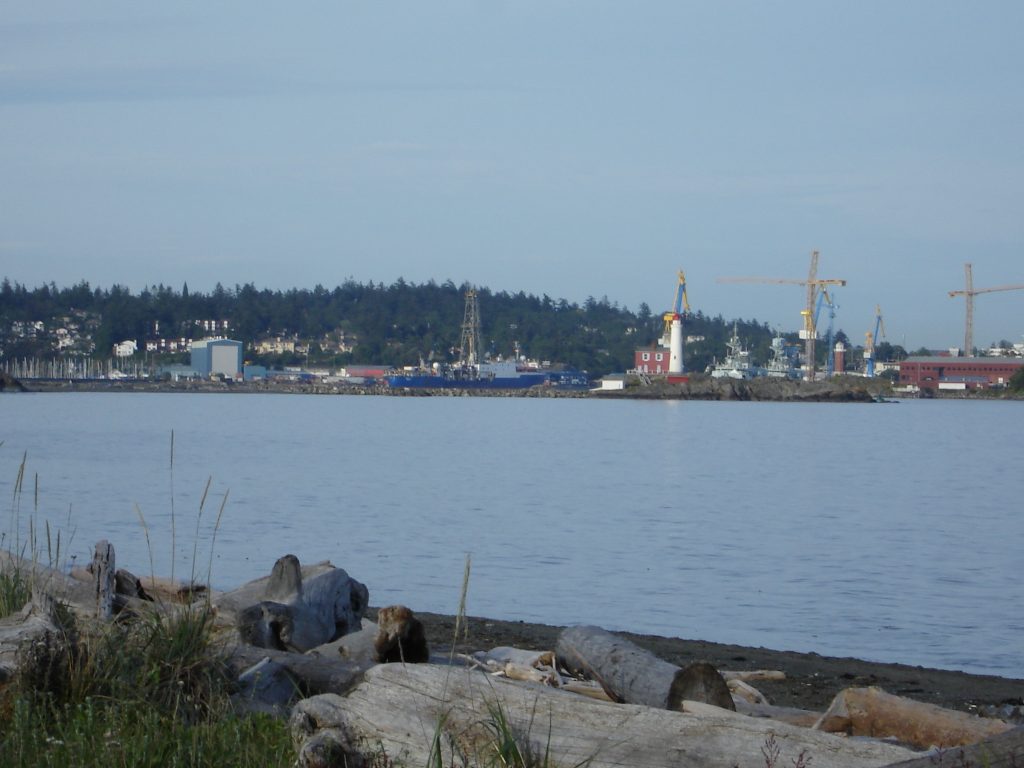 Beautiful Victoria, British Columbia, Tie Up
I'm back onboard, this time we are 'along side', which means the ship is tied up to a dock for the whole two months that I am aboard – fantastic!
The best part of being along side is waking up to see mountains, trees, deer… my morning runs are on land – not on the dreaded treadmill…
We are working on several projects right now which have included – re organization of the Core Lab – a much better use of the space – I am sure the scientists will be pleased. Check out the photos of the new set up. Painting, painting and more painting! The tie up gives us the opportunity to get those jobs completed that cannot be done during normal drilling operations. Floor painting, equipment repair and analytical system upgrading.
Picture of CORE ENTRY – notice the sampling table is removed – that is Etienne, the Electrical Technician in the back ground. (Picture by Roy Davis).
Picture of CORE LAB – the sampling table is now located here, the PP track has been moved, the discription table is a bit smaller. (Picture by Roy Davis).
Outside the laboratories there are many other upgrades including:
The 7 engines onboard are undergoing a major overhaul with the addition of a 'new emissions kit'. This is a greener JOIDES. The emissions kit includes new Power Assembly Packs – each engine has 16 of these power packs which consist of a piston, liner, cylinder head and connecting rod, plus new fuel injectors, new turbo chargers and new air coolers. Overall we will have lower emissions, cleaner combustion and better fuel usage. For all those who have exercised on the helicopter deck, you will appreciate the cleaner exhaust.
The Elevator is being Repaired as well. Yea!! We are all very excited about having the elevator back…Not always fun carrying supplies up and down over the 8 flights of stairs…
That is all for now folks, I will have more photos – including the MBIO van going onboard, Navy 100 Years Celebrations, and lots more, bye! Heather, JOIDES Technical Support.