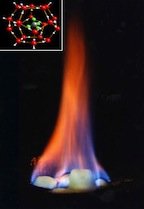 Earthquakes and tsunamis are great motivators, as are the pursuits. These are the reasons why a lot of time and resources have gone into studying the seismic, geodynamic, and hydrothermic systems in the Pacific Northwest. The tools being installed on this expedition will contribute to our understanding of the complex processes that make up this dynamic region, where gas hydrates form and fantastic tectonics activity is in play.
One of the tools, the SCIMPI (Simple Cabled Instrument for Measuring Parameters In-Situ), will be installed at the Bullseye Vent, which is a large, (approximately 8 km2) cold vent. It is a highly active area where venting from the seafloor to the water column occurs and where gas hydrates can be found.  ODP Leg 146 and IODP Expedition 311 previously drilled in the area so the new data collected will contribute to a growing database. The SCIMPI will take long term measurements that will inform us about how gas hydrate formation changes. These data will also add to our understanding of changes during seismic and nonseismic events.
IMAGE Source: United States Geological Survey.