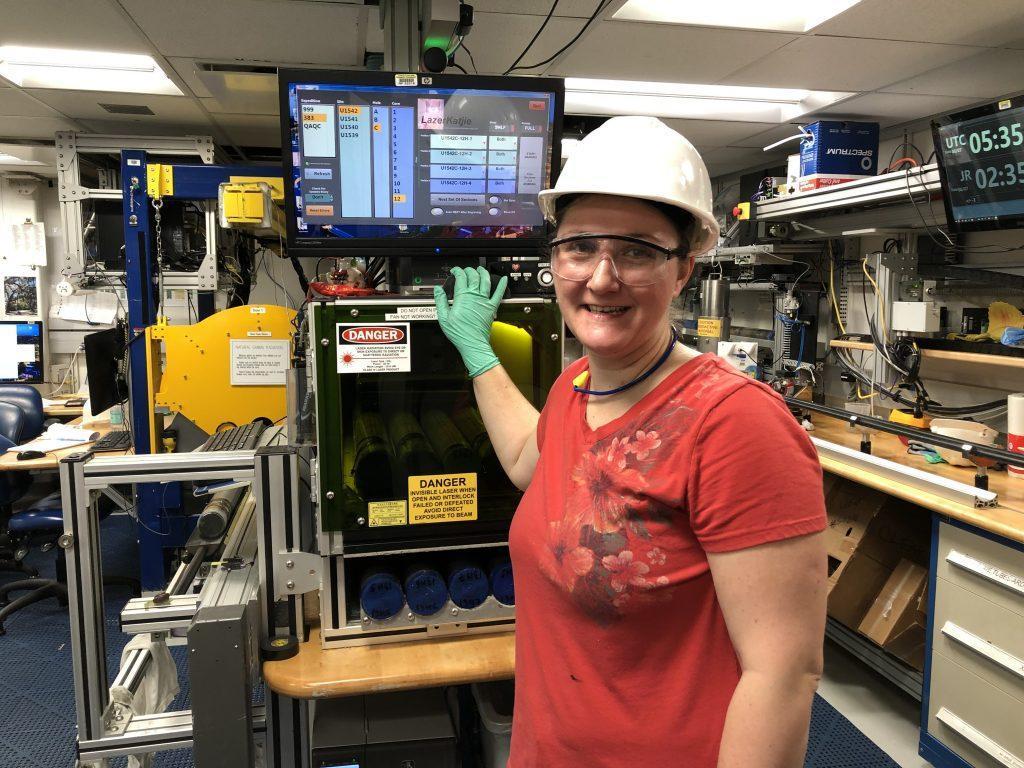 Career Spotlight: Core Technician Ionela Samoila
Ionela Samoila Interview
Please describe your job duties while on the JR. What will you be doing on a daily basis?
I will be part of the technical team helping to recover the 9.5 meter cores on the catwalk, cut them into smaller sections, and prepare them for further analysis. I will also assist the scientists with any of the things they might need for their labs.
Describe one instrument or tool that is essential for you to do your job? Or a piece of equipment on the JR that is useful and why – what does it do?
It's hard to decide between the core cutter and the laser engraver. These are the tools I use the most in the core lab. The first one is used to cut recovered cores into smaller (1.50 m) sections for easier handling. We then use the laser engraver (or "Laser Kitty") to mark the core liners with information to identify the location where the core was taken and a unique code that identifies the location where the core will be stored in the repository long after the end of the expedition.
Why is your work (or research) important? What question are you trying to answer or how does your work/research help assist/advance scientific knowledge?
Cores are one of the most important data points for research on board and it is important to know how to handle and prepare them in order to obtain the best information from each section.
Why the ocean? What made you choose a career at sea or career that involves the ocean?
In my case, it was happy coincidence. In 2008, during my Master studies in Bucharest, I was fortunate enough to get a job as a junior geologist with a new company doing an exploration project in the Black Sea. Because the project was young, the team was also fresh and new, and I was given the chance to learn together with them about the Black Sea. It was at this time that I started to go offshore with a research vessel to collect samples and to run geophysical surveys.
After that project ended, I continued working as a marine geologist at the National Institute for Marine Geology and Geoecology (GeoEcoMar) in Romania until last year when I moved to Colorado.
I think once you start to go on a boat you can't stop, because the sea is always calling you, no matter where you are.
So, after more than 10 years since I began sailing on research vessels I continue to do so and enjoy it greatly.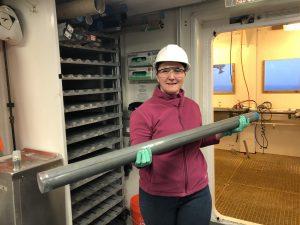 What are you most excited about for this expedition and/or being on the JR?
First of all, I am very excited to finally be on board JR after so many years of dreaming about it. I tried to apply as a scientist several years ago, but was not eligible at the time. When the opportunity arose, I took it and am now very happy to be part of the team.
I am also looking forward to going to the southernmost point I've ever been, and so close to Antarctica!
What are three things you think are needed for a successful expedition at sea? And Why!
Friendly people – because everyone needs to be able to communicate well and work together in an enclosed 143 m long boat.
Calm seas – because it's very hard to work while you are seasick and impossible to drill in a storm.
Sun – I think that the sun is very important to boost every person's mood; it's been a challenge in the ACC in winter!
If you could answer one question about our Earth – what would it be and why?
We always think that the Earth is fairly static and stable, but that is not always the case. There are always geologic motions occurring and sometimes, especially under the ocean, these can cause hazards to infrastructure and where people live. It is important to understand many aspects of the Earth to get some understanding of what hazards and challenges there can be for people, and even help to understand when they can occur.
What is your favorite sea creature and why?
I love little penguins (Eudyptula minor) because they are the smallest species of penguins, growing to an average of only 33 cm in height and 43 cm in length. They are also called "fairy penguins" in Australia or "little blue penguins" in New Zealand. I was fortunate to have the chance to see some little penguins on Penguin Island off the coast of Perth, Western Australia, where there is a community of rescued little penguins, kept in a dedicated enclosure. It happened to also be the period when they were molting and preparing for hibernation, and they were hilarious.

When did you know you wanted to pursue a career in science or an ocean science career?
I knew I wanted a career in science in high-school because I liked geography and the natural sciences, but also just hiking in the mountains around where I grew up, discovering interesting rocks and landscapes. As for a career in ocean science, it started with a fortunate job opportunity and after my first time on a boat on the Black Sea I knew that this is what I wanted to do.
What do you personally hope to gain or experience while on EXP383?
I hope to meet new interesting people and hear their stories about previous experiences – both on boats and from their careers and homes.
I am looking forward to learn how things work on a drilling boat. I am also excited to learn more about the equipment used on the JOIDES and what type of information it can offer in researching the past of our planet.
What message do you have for anyone considering a career at sea or a career involving the ocean sciences?
It might seem difficult to be stuck on a boat for long periods of time and be isolated from land, but if you really like what you are doing and who you are with, time will fly by without you noticing.
What do you do back home when not on the JR?
I moved to the United States one year ago and am excited to discover more about my 'new home' in Colorado.
Do you get seasick? If yes or sometimes, please also select the other tab and describe how you cope with it.
Sometimes, but I am lucky to be able to adjust to the ship's movements pretty quickly, so the symptoms don't last for more than a day or so. Some seasickness pills and a bit of ginger always helps! Some people can be sick for days, but even in very rough seas the only thing I get is a bit more tired during the day.
The need for space comes in many forms. Which type of space, in general, is the most important to you?
___Personal Space
_X_Creative Space
___Outdoor Space
___Emotional Space
___Physical Space
___Spiritual or Meditative
___Outer Space
___Community Space
___Quite Space
___Productive/Work Space
___Digital/Virtual Space
___Public Space
___Inner Space
___Other:
Why that type of space? What makes it important to you and will it be available while on the JR?
I like to create and do some arts and crafts when I have time. I sometimes make sock toys for my friends' kids. This helps me to relax and I am happy to create animals for kids who are then very happy with their unique toys.