Career Spotlight: Micropaleontologist Oliver M. Esper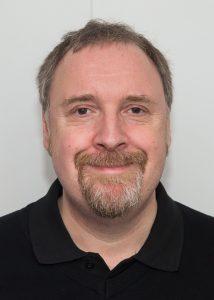 Oliver M. Esper Interview
Please describe your job duties while on the JR. What will you be doing on a daily basis?
I will process smear slides from each core catcher sample to analyze the diatom (marine microfossils) content for stratigraphic purposes. After identifying diatoms relevant for stratigraphy, I will contribute to the production of age models for every core drilled together with specialists of other microfossil groups and the paleomagnetics specialists.
Describe one instrument or tool that is essential for you to do your job? Or a piece of equipment on the JR that is useful and why – what does it do?
I use mainly microscopes of different style to magnify my target organisms, the diatoms, to reveal their secrets of paleoecology and stratigraphy.
Why is your work (or research) important? What question are you trying to answer or how does your work/research help assist/advance scientific knowledge?
So-called biostratigraphy is an important discipline due to the production of age models for the drilled sediments immediately when they come on board. Fellow scientists will get information on the age of the sediments while they are still on board and can thus adjust their own research efforts regarding the timing of climatic and oceanographic events, probably leading to the improvement of their research strategies. Besides that, I will conduct paleoenvironmental reconstructions of past surface water conditions (e.g. sea surface temperatures, sea ice conditions, productivity changes, melt water discharge from unstable ice sheets) via an extended diatom analysis.
Why the ocean? What made you choose a career at sea or career that involves the ocean?
Parts of the world oceans are key areas of influencing and steering changes in the global climate system. Marine sediments record these processes via changes in sedimentary processes and changes in the inventory of biological remains, such as fossil algae and tiny animal shells. The analysis of past changes in oceans biology gives information on the amount and impact of oceans influence on the climate system. Besides that, marine sedimentary records of climate change are probably more complete (less eroded/altered) than terrestrial records, due to a more stable sedimentation environment and less disturbance of the sediment column.
What are you most excited about for this expedition and/or being on the JR?
I like to work on research vessels with highly sophisticated equipment, professional technicians, and a group of international scientists from several countries, representing the state of the art of marine sciences.
What are three things you think are needed for a successful expedition at sea? And Why!
Most important are the people. You need several professional groups working perfectly together, like the crew, the technical staff, and the science party.
If you could answer one question about our Earth – what would it be and why?
I cannot think of a single question. Every research target is important, everything is connected…
What is your favorite sea creature and why?
The Dinoflagellate. These small creatures can do nearly everything, but make GOOD coffee!
When did you know you wanted to pursue a career in science or an ocean science career?
Well, actually I wanted to become a chemist. After that, I tried to become a geochemist. When I finally decided, not to become a chemist at all, I started studying paleontology to become a famous dinosaur specialist, until I saw my first Dinoflagellate under the microscope, 25 year ago. Since then, I am doing marine research with small, unicellular critters.
What do you personally hope to gain or experience while on EXP383?
Finding new friends/colleagues in science and getting further insight in how the ocean system works.
What message do you have for anyone considering a career at sea or a career involving the ocean sciences?
This is difficult. It took me more than 20 years to get a permanent position in the science business, a time full of deprivation, setbacks, personal limitations, and every day an open future. To be honest, I cannot suggest a carrier in climate or ocean science with a clear conscience.
What do you do back home when not on the JR?
I care for my mother, meet friends, and think about the next research projects.
Do you get sea sick? If yes or sometimes, please describe how you cope with it.
The need for space comes in many forms. Which type of space, in general, is the most important to you? (Choose just one)
___Personal Space
___Creative Space
___Outdoor Space
___Emotional Space
___Physical Space
___Spiritual or Meditative
___Outer Space
___Community Space
___Quite Space
___Productive/Work Space
___Digital/Virtual Space
___Public Space
_X_Inner Space
___Other:
Why that type of space? What makes it important to you and will it be available while on the JR?
I need to have enough inner space to retreat from time to time from my environment