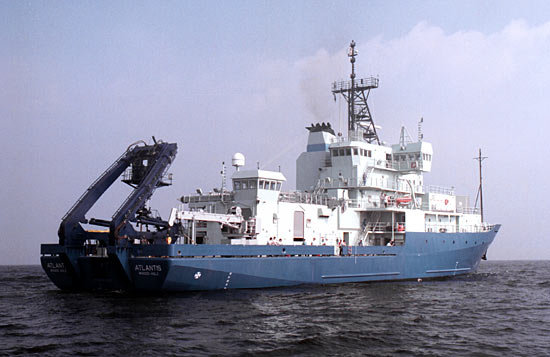 Checking on the Juan de Fuca CORKs
Greetings from the northeastern Pacific Ocean!  I'm not writing from the JR today, but from the R/V Atlantis, support ship for the Alvin submersible.  If you were following blogs during the School of Rock expedition, you might remember that a very important part of that cruise was to dump cement around several seafloor observatories (CORKs) that were leaking.  Well, it's been over a month since we ended that cruise, but that means it's time to look in on the instruments to see if what we did worked!  We'll dive 2600m to the bottom of the ocean, download data from our instruments, and see if the cement has successfully cut off flow between the formation (porous basalt) and the open ocean.
We just left Seattle this morning, so our first dive will be on Saturday.  We won't get to dive on the CORKs until several days after that, but I'll be sure to keep you posted on what we're working on in the meantime!
If you have questions, feel free to send them along!  The science party spans many disciplines, so if I can't answer your question, I'm sure I can find someone who will!