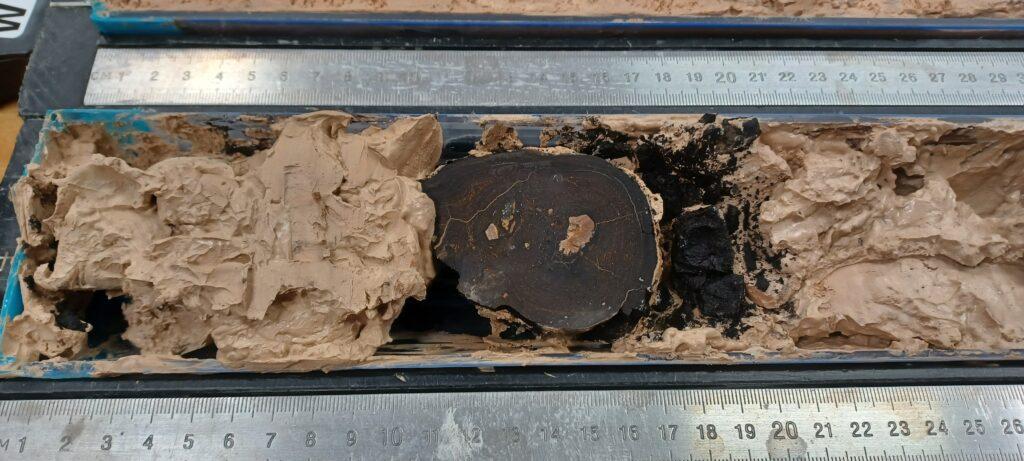 Co-Chief Gabi's Update Week Eight
By Gabriele Uenzelmann-Neben, Co-Chief Scientist, Expedition 392
We arrived on site on Sunday and immediately started to trip pipe. Time was precious as the storm system was approaching us.
First core was on deck on Monday morning. It consisted of soft ooze. And there was a manganese nodule which probably had fallen in. Manganese nodules usually lie on the seafloor. They grow like pearls: a nucleus, this time some limestone, is coated by concentric layers of iron and manganese hydroxides, which precipitate from the seawater. The various elements contained in a manganese nodule provide information on different water masses, which have been active over millions of years in the area of their discovery.
With the fifth core we touched basalt! Pillow lavas, a document of the submarine emplacement history of the Agulhas Plateau. This resulted in great joy among the science party, especially the igneous petrologists.
But the storm was growing in power. Thus, we had to stop drilling late Monday afternoon and trip pipe back to the boat. And then—we fled! We sailed north to leave the worst of the storm behind. Our aim was to only experience 30 knots of wind and less than 8 meters wave height. That was still quite rough.
Once on the South African shelf we turned west to sail a triangle and not distance ourselves too far from the drill site. We now were surrounded by an angry sea.
In total we had to WOW for almost four days. WOW—this means waiting on weather. This so close to the end of the expedition is an unhappy situation. Everybody is anxious to get back on site to resume drilling, there is little time left. We have to be back in Cape Town on April 7, thus have to leave our working area no later than the 5th. But we cannot rush the storm and have to wait patiently until it is safe to return to the drill site.
On Friday, we finally get back to work and see the first core on deck on Saturday morning. Again, we have recovered basalt.
Now, let's keep our fingers crossed for the last few days to complete this hugely successful expedition!
Our thanks go to all who assisted us and allowed for the success: Captain Tom and his crew, the drillers, the Entier crew feeding us, the IODP technicians, the science party, our expedition project manager.
Southwesterly Indian Ocean, April 3 2022, 35° 40.8660' S/ 29° 39.0192' E