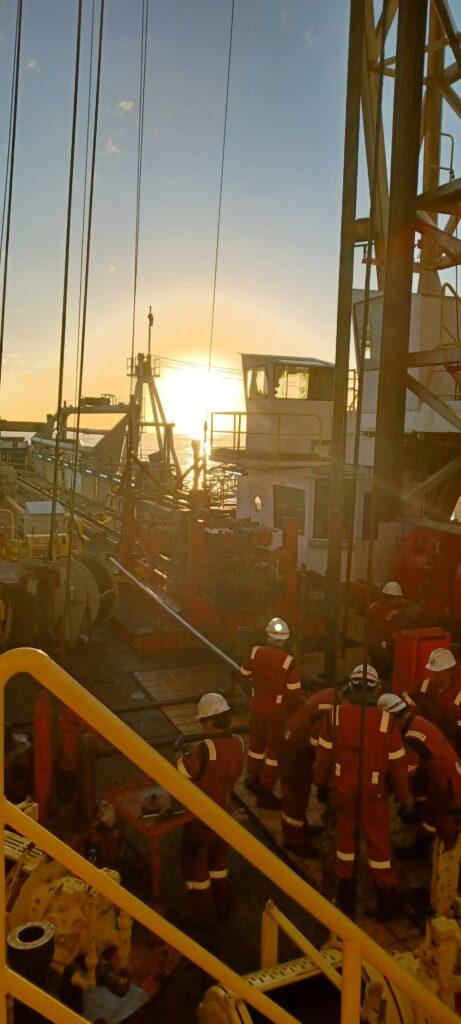 Co-Chief Gabi's Update Week Six
By Gabriele Uenzelmann-Neben, Co-Chief Scientist, Expedition 392
The Transkei Basin. A deep basin southeast of South Africa. The seafloor at our drill site lies in 4,600 meters water depth. Thirteen hours are needed to "trip pipe." We then can start drill operations.
Our target is a horizon in about 950 meters depth below seafloor. We expect this horizon to provide information on the status of the basin 90 million years ago: Was it a restricted basin or did it already form part of the gateway between the Indian and the South Atlantic oceans?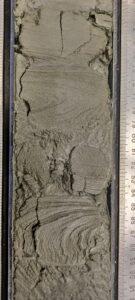 950 meters—that is quite deep! The younger part of the sedimentary column is characterized by the Agulhas Drift. This is a dune-like structure, formed by the activity of North Atlantic deep water and Antarctic bottom water. These are two intense water masses which, on their way through the oceans, erode, transport and deposit sedimentary material. The sediments usually are deposited where the currents and water masses loose speed, such as when they round an obstacle such as a submarine volcano, a ridge—or a plateau.
At the drill location, the Agulhas Drift shows a thickness of about 300 meters. The cores we retrieve here show different material: calcareous oozes and sandy layers. The sandy layers point towards turbidites: material that originated at the continental slope of South Africa and slid down to the deep basin.
The sandy layers are difficult to drill. They often slip out of the core barrel. We are happy when we see a change in sedimentary material, when it gets firmer. The core recovery thus is larger. We need lots of material to work with.
A small part of the core is immediately analyzed for microfossils. Those are characteristic for different ages and indicate the age of the sediment. We thus know relatively quickly which period in time has been sampled, and whether we are closing in on our target—Cretaceous sediments.
Southwesterly Indian Ocean, March 19 2022, 35° 40.8654' S/ 29° 39.0055 E