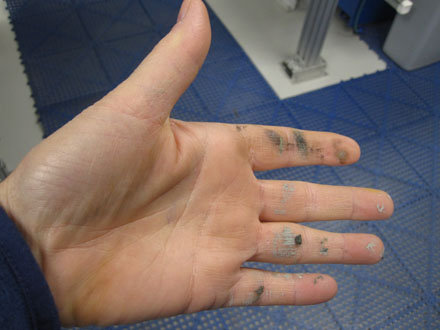 Look, mud from many many years ago that no one has ever seen or touched before. Check it out!
I was kind of close to the big pipes and noise so I wasn't holding the camera as steady as I should when I shot this picture of the drill bit. This is what cuts through the rock.
But, I was intrigued by these side bits that widened the hole but collapsed in the pipe on the way up.
And look, a friendly sun fish stopped by to eye us!
Here's two pic of the lab we did yesterday with Co-Chief scientist Andrew Fisher.
Today I have to climb into a life boat and then I get to talk with other educators at the National Marine Educators Association Conference in Tennessee. Later we will share our projects with each other. We will of course eat three delicious meals!