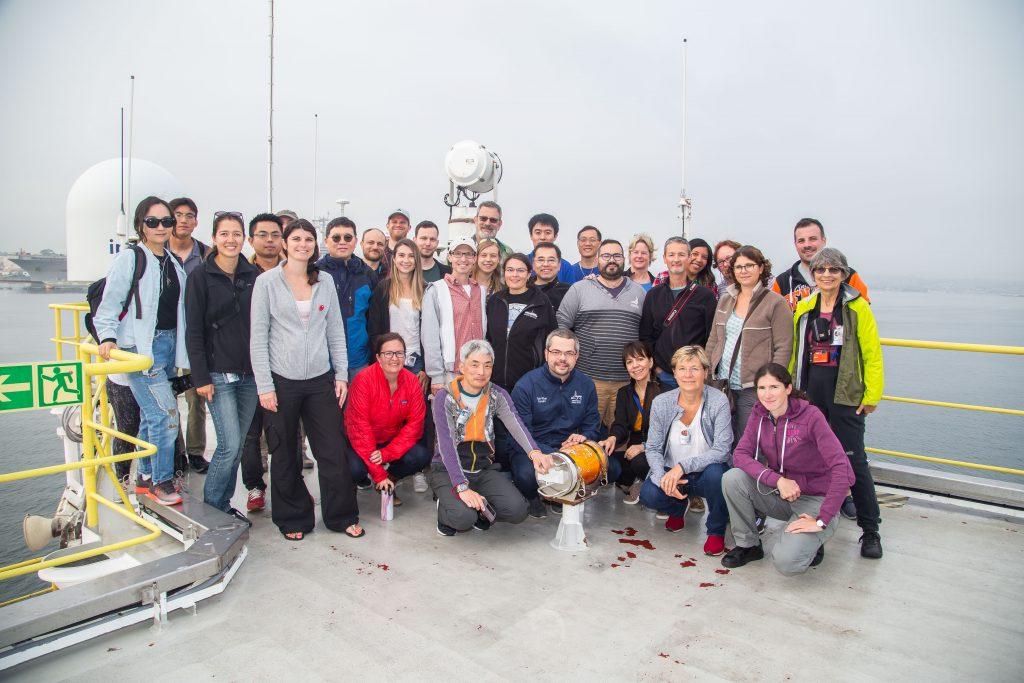 Everything started on Saturday, September 15, when the famous JOIDES Resolution arrived to San Diego around 3 p.m.
Tobias Höfig, expedition project manager of Expedition 385, other scientists and I gathered on the international Pier to witness the arrival of the majestous ship. We were quite excited to meet out home for the next two months.
.@TheJR just arrived in San Diego. Wonder how a ship this big makes it to port so smoothly? This time-lapse video represents ~30 minutes in real time. This is the end of #EXP385T and #EXP385 will begin shortly. #NSFFunded @NSF_GEO pic.twitter.com/CHKuwwAsiU

— JOIDES Resolution (@TheJR) September 15, 2019
The next day, the Scripps Institution of Oceanography hosted a Guaymas Basin Expedition symposium where scientists from the first deep-drilling Guaymas Expedition in 1978/79 [DSDP Expedition 64] met with the scientists who are now returning to the famous location.
On Monday, Co-Chief Dan Lizarralde of #EXP385 met Joseph Curray, professor emeritus at @Scripps_Ocean and science Co-chief of the first deep-drilling Guaymas Expedition 40 years ago. On #EXP385, we will return to this fascinating spreading system in Mexico. 🇲🇽 @NSF_GEO #NSFFunded pic.twitter.com/gwNKWOHVtK

— JOIDES Resolution (@TheJR) September 21, 2019
Although the JR was on port, the next few days were full of meetings, presentations, workshops and some time to get to know each other. In the meant time, the technical staff and crew wee busy loading equipment and resupplying the ship for our expedition.
Then, on the morning of Sunday, September 22, the JOIDES Resolution departed San Diego, with 33 scientist from nine countries onboard. It was an exciting moment for all of us.
HERE WE GO!! ⛴ We left port this morning and said goodbye to ☀️San Diego. We're now headed south to 🇲🇽Mexican waters🌊 for #EXP385 @NSF_GEO #NSFFunded pic.twitter.com/gSlNTdrQ7w

— JOIDES Resolution (@TheJR) September 22, 2019
The transit was very smooth. We saw dolphins, turtles, flying fish and birds.
¡Si estás en Ensenada, podrás ver pasar al #JOIDESResolution rumbo al sur en unas horas! | If you're in Ensenada, you'll be able to see the #JOIDESResolution in a few hours heading south! ⛴🌊 pic.twitter.com/THtoh4QA4A

— JOIDES Resolution (@TheJR) September 22, 2019
While the scientists were training, getting acquainted with the equipment and drafting their methodologies, the Expedition 385 was already making headlines. With three Mexican scientist on board, the media was expectant of this adventure.
Tres mexicanos participarán en una expedición científica en la Cuenca de Guayma, la cual, permitirá obtener más información sobre la historia de la Tierra y su evolución https://t.co/M70MBPvSC4

— El Universal (@El_Universal_Mx) September 21, 2019
"I've built my career around this ship; it's an old friend," Scripps scientist Dick Norris told @10News of the JOIDES Resolution (@TheJR). This #NSFfunded scientific drilling vessel is visiting San Diego for a brief port call before heading back to sea. https://t.co/ApHzkyHzHX

— Scripps Institution of Oceanography (@Scripps_Ocean) September 20, 2019
Scientists aboard drilling vessel begin project studying ocean floor off Guaymas, Sonora. https://t.co/44ShSxdxry pic.twitter.com/qFUGgAFlUn

— Mexico News Daily (@mexicond) September 24, 2019
On the afternoon of September 26, The JR arrived to the first site of our expedition. The weather was warm and the scenery was beautiful. We can see Isla Tortuga, which is a volcanic island with a large caldera in the middle.
We just arrived to our first drilling site of #EXP385 and that means that our dynamic positioning system kicks in. For that, 12 thrusters like this one are lowered to keep us stable while drilling. The first core on deck is expected early tomorrow! @NSF_GEO #NSFFunded #cores pic.twitter.com/gqONv2on5m

— JOIDES Resolution (@TheJR) September 26, 2019
The crew started lowering the drilling pipe immediately and now we're expecting our first core in the early morning. Everybody is expectant, excited and nervous. We'll see what secrets Guaymas' hydrothermal sea floor has in store for us.
Spotted: Our first APC coring bit being currently lowered down to the sea floor. *WE.ARE.EXCITED* 🤩 @NSF_GEO #NSFFunded pic.twitter.com/8w4L8Zha7K

— JOIDES Resolution (@TheJR) September 27, 2019