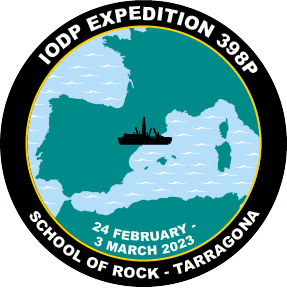 For the first time since the start of the COVID-19 pandemic, in-person School of Rock is back, for an exciting partnership with the American Geosciences Institute! This February, educators from all around the USA will travel to the port of Tarragona, Spain, to board the JOIDES Resolution. Over the course of 10 days, participants will tour the ship to learn about IODP science and ship operations, speak with scientists and technicians, and collaborate to enhance the educational offerings of the International Ocean Discovery Program.
The nation is at a time of transition in the field of science education. Learning targets encourage experiencing and explaining phenomena rather than memorizing facts, classrooms are becoming culturally responsive and student-centered, and a over year of remote teaching is driving a new demand for digital resources. Given these changing priorities, we are motivated to provide resources that are relevant to a broad global audience of educators and learners.
The focus of this year's program is to refine and update the extensive library of existing IODP curriculum and educational materials, to make them easier to navigate and more relevant in our increasingly digital world. Stay tuned to find out how each participant will take on this challenge!
In the meantime, meet the team:
Expedition Project Manager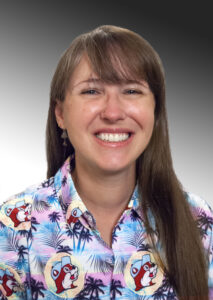 Dr. Laurel Childress has worked for the International Ocean Discovery Program (IODP) at Texas A&M University in College Station, Texas (USA) since 2017 as an Expedition Project Manager/Staff Scientist. In this role she provides scientific expertise, leadership, and advocacy to the implementation of IODP expeditions and science services. This includes facilitating and sailing on IODP expeditions, conducting independent IODP and non-IODP research, and contributing to science engagement activities of IODP and Texas A&M University. Her research includes biogeochemical cycling and data mining and she also serves as the JROC (JRSO Outreach Coordinator). This will be her fifth time onboard the JR.
Instructors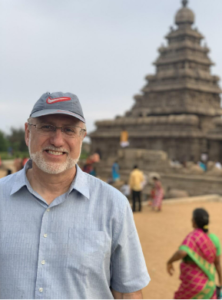 Ed Robeck Growing up in Omaha led to me not seeing a body of saltwater until after my first year of college. At the same time, through my childhood collection of the marine fossils that are typical of southeast Nebraska I developed an early fascination with earth science—especially oceans and prehistory. I applied that and an enthusiasm for science more generally to my early work as a middle school science teacher in Lincoln, Nebraska. Since then, I've lived several places, and held a variety of positions in education—including as curriculum designer, as a university faculty member, and for the past eight years as Director of Education and Outreach at the American Geosciences Institute (AGI). I have an ongoing interest in exploring what educators in different contexts can learn from each other.
Lindsay Mossa My name is Lindsay Mossa, and I live in Annapolis, MD. I have been an Education Specialist at the American Geosciences Institute for a little over a year. Before that, I taught Life, Physical, and Earth sciences for 15 years in schools in Maryland and upstate New York. I have also written various science curricula for middle and high school.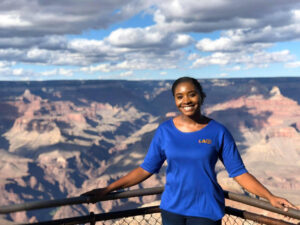 Sequoyah McGee Hi there! My name is Sequoyah McGee (she/her pronouns), and I am the Outreach Coordinator for Education and Outreach at the American Geosciences Institute (AGI). As such, I work on the logistics of a lot of the projects AGI undertakes across the geoscience education and outreach community, like this partnership for the 2023 School of Rock program. I have a background in environmental studies with an emphasis in coastal geology. I'm so excited for what's in store!
Lauren Brase I'm Lauren Brase, an Education Specialist at AGI. I taught high school science for five years and then spent about 5 years studying planetary science and conducting fieldwork around the world. I have been at AGI for more than a year and am happy to have found a career which brings my diverse interests together! My husband and I have two young boys and a big puppy. We move around quite a lot and are currently residing in the Chicago suburbs.
Sharon Cooper oversees Education and Outreach programs for the U.S. Science Support Program (USSSP) office of the International Ocean Discovery Program. She first learned about IODP when working for the Smithsonian on developing the Sant Ocean Hall, during which she sailed on the very first School of Rock in 2005 and became permanently hooked. Now a full-fledged accidental geologist, she creates and implements programs around the world to encourage students, teachers and the general public to fall in love with STEM and get their minds blown by the amazing science IODP and related programs do every day. In other parts of her life, she is a children's book author, wife, mom, cook and laundry-folder. She is married and has three boys who refer to the JR as "mommy's ship."
Maya Pincus After starting my career as an impact geologist at the University of Puerto Rico – Mayagüez, I moved to New York City to become a certified educator through the American Museum of Natural History MAT program. During my time as an Earth science teacher, I had the privilege to sail on the JOIDES Resolution twice as an onboard outreach officer. Now as a full-time science communicator for the U.S. Science Support Program, I continue to work towards my goal of making science engaging and accessible for everyone.
Participants
Alejandra Martinez knew she wanted to pursue a career in science and developed a love for education while working as an elementary school tutor. She shares her field experiences – including working as an Educator at Sea and a field assistant for teams of researchers – with her students through a variety of hands-on activities, awakening the scientist within them.
"It strikes a deeper chord with a student when they know their teacher has been out in the field and has brought back examples to illustrate concepts. I want to encourage my students to investigate the world and I do this by bringing real, current scientific exploration into my classroom so that my students will feel actively engaged."
Martinez is a National Geographic certified educator and Grosvenor Teacher Fellow who is furthering students' understanding of the planet and empowering them to generate solutions for a healthier and more sustainable future. You can follow her class mascot on Instagram @slomolovesscience.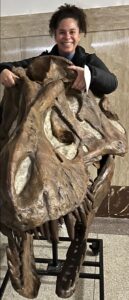 Carliana Collins was born in the Dominican Republic and immigrated to the United States at the age of nine. Although a cultural shock on many levels, she adapted and persisted. She attended public school in The Bronx and went on to earn a Marketing degree from St. John's University. After seven years in advertising she came to the realization that her passion lies in working with the young minds that, like her, will experience education in the largest and most ethnically diverse school district in the United States.
She pursued her passion, embarking on yet another journey, this time to become an educator earning her Masters degree in Bilingual Special Education from City College. Since then, she has been co-teaching Earth Science and Agricultural Science at the Celia Cruz Bronx High School of Music, while also collaborating with her colleagues as a teacher leader and Model Teacher co-creating a lab classroom and supporting administration in curriculum implementation and PD development.
Carliana is also a mom to two rambunctious little ones, Elena 10 and Jaxson 4, raising them alongside her equally rambunctious partner of almost 20 years, Rob. She enjoys cooking, traveling, the outdoors, and immersing herself in different cultures.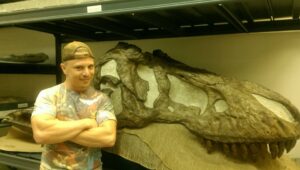 Arthur W. Funk teaches Earth Science and Agricultural Sciences at Celia Cruz Bronx High School of Music. He is a graduate of the Master of Arts in Teaching Earth Science Residency Program at the American Museum of Natural History's where he now also works as an education researcher.  He is currently a Math for America fellow and the Peer Collaborative Teacher for his school.  His science background includes geologic fieldwork in cosmogenic radionuclide dating and geothermobarometry while his fine arts background includes painting, photography, and digital art.  In his free time he is an avid outdoorsman, motorcyclist, and musician.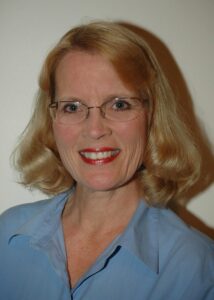 Nicoline (Nikki) Chambers teaches about life on this planet (Biology of the Living Earth), as well as the possibility of life on worlds beyond (Astrobiology) at West High School in coastal southern California. Her favorite teaching topic is whichever curriculum folder she's just pulled out and revised! She keeps her teaching fresh and relevant by being involved in several teacher-as-researcher programs, including a rewarding relationship with the Williams Lab at UC Berkeley in which she continues to evaluate the impact of climate change on her invertebrate of choice, lady beetles. She delights in developing curriculum that allows her to bring research (her own, and others') into her classroom. As a member of the California Science Expert Panel, she was instrumental in getting the NGSS adopted and implemented in California. Her previous curriculum development work has been published by UCMP "Understanding Evolution" website, HHMI Biointeractive, Data Nuggets, and the UK Centre for Astrobiology. She tells her students that the two best sentence starters in the world are "I wonder…", and "What's the evidence…?". She lives with her husband, a retired rocket scientist, and cherishes  science-y exchanges with her son (an aspiring chemical engineer) and daughter (a science fiction author).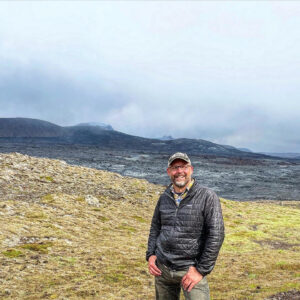 David Thesenga A geologist as well as a teacher, David Thesenga has been teaching physics, chemistry, and the Earth sciences for 24 years to both middle- and high-school students in Pasadena, New York, Chicago, and Boulder, Colorado. From watching the eruption of Mt. St. Helens to climbing the Cascades, growing up in Oregon fueled his interest in the world around him and a desire to understand how his landscape was formed. With an original interest in glaciology, David earned his BS in Geology/Geophysics from the University of Alaska Fairbanks and shifted to the mining industry in Cripple Creek, Colorado. After leaving mining, he earned his Masters of Science in Teaching from Boston College and never looked back. He has been a curriculum developer for the 7-10 Project of the California PreCollege Science Initiative (CAPSI) at the California Institute of Technology, a faculty associate for math and science teacher preparation at Claremont Graduate University, and is a former editor of The Earth Scientist, the journal of the National Earth Science Teachers Association.  He was named an Albert Einstein Distinguished Educator in 2013/14 and worked for the National Science Foundation in the Directorate of Geosciences focusing on 3D printing of topographical concepts and assisting in the reimagining of the GLOBE program's teacher professional development.  Most recently, as part of PolarTREC he traveled to Antarctica with a research team studying glacial flow dynamics within the McMurdo Shear Zone on the Ross Ice Shelf.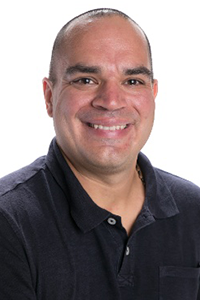 Tony Del Campo I am a proud Chicagoan, borned and raised on the northside of the city. I love being outdoors, but more importantly having the opportunity to teach others about our amazing planet. This passion has led me to be a park ranger at the Ozark National Scenic Riverways to teaching in the Rio Grande Valley as part of the Teach For America program to becoming part of the faculty at the University of Chicago Laboratory Schools for the past twenty plus years. It is not uncommon to find our minivan parked on the shoulder of the road during our family summer road trips with us looking at the outcrops to discover the stories the rocks are telling.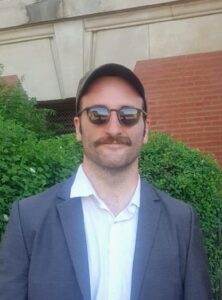 Rob McKinley is a high school teacher who has worked in New York City, Chicago, Providence, and is now settled teaching in Portsmouth, Rhode Island. He earned a degree in geosciences from the University of Rochester where he worked for two years on meteorite research with the Paleomagnetic Research Group and participated in an arctic expedition with the Polar Continental Shelf Program. Upon completion of his degree he decided to pivot away from research and pursue a career in teaching science. From 2013-14 he was a Davis Fellow at the American Museum of Natural History and earned a Masters of Arts in Teaching degree before taking his first teaching job in Providence, RI as part of the city's behavior intervention program. During the course of this work he developed alternative science curriculum in a variety of disciplines to accommodate the unique needs of his students, which led to an interest in curriculum development – specifically the development and use of online resources to aid students in under-resourced science classrooms and labs. At Portsmouth High School Rob teaches 9th grade science, AP Physics, Space Science, and Oceanography. He is grateful for the opportunity to work with talented educators and scientists through the School of Rock program to develop and refine geosciences curriculum which he can integrate into all of his current classes with the hope of writing and offering the school's first dedicated Geological sciences elective course.
Angela Zier is an adventurous education professional with a passion for fostering student interest in the sciences and the environment. She studied Wildlife & Fisheries Sciences at Texas A&M University before earning Master's degrees in Education and in Life Science. She currently teaches high school science students in Southern Illinois, sponsors the Science Club and Envirothon team, and serves as a Noyce Master Teaching Fellow at Southern Illinois University. Her favorite things include nature hikes, family game nights, and exploring new places.
Alyssa Weisenstein is a high school science teacher in Southern Illinois. Currently, she teaches earth science and biology. When she's not teaching, you'll find her hiking through the woods with her pups, jet-setting to who knows where, supporting earth science teachers transitioning to NGSS, visiting family, or creating some new craft item discovered on Pinterest.
Myrna Gattica My name is Myrna Gatica, I am a native New Yorker, born and raised in Queens. I am a proud daughter of immigrants from Guatemala and an aunt to three wonderful nephews and a niece. I love cycling through the city and exploring new places. As a product of the New York school system, I understand the adversities these communities go through and their challenges to enjoy and experience science. I have been teaching in inner city schools for about ten years. I have been teaching Earth science at Innovation Charter High School for 7 years. My style of teaching is project-based and experiential teaching. As an educator of color, I strive to bring the natural world as best as I can through my lessons and activities. I want to continue teaching and learning more on how to perfect my craft.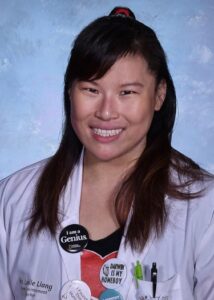 Leslie Liang is a first generation Chinese-American who grew up in San Diego, CA. Wanting to explore a more diverse environment, she moved to New York City in 2007 to attend New York University where she received her Bachelor of Arts in Economics and Spanish and Master of Arts in Spanish Education and TESOL. Her initial teaching certifications began with Spanish and English as a Second Language, then expanded to a professional certificate to teach Students with Disabilities. Leslie's dream to make impactful changes in access to equitable education for all learners in high poverty, urban settings led her to obtain a Master of Science in Educational Leadership and Administration through CITE and the College of Saint Rose. Currently in her seventh year at Innovation Charter High School, Leslie is a self-taught biology teacher who develops her own curriculum for her Special Education Living Environment Regents class. Her other roles include adjunct professor for Touro College, The Writing Revolution Literacy Program Coordinator, and Digital Learning Specialist. In her spare time, Leslie enjoys playing JRPG and puzzle video games.
Suraida Nañez-James has been in the field of science and education for over 20 years working in academia, for nonprofits, the Texas State Aquarium, and schools. She earned a Bachelor of Science in Marine Fisheries from Texas A&M University at Galveston and a Master of Science from Texas A&M University-Corpus Christi with a focus on marine fisheries and ecological research. She has sailed on the R/V JOIDES Resolution with IODP and the R/V Falkor with the Schmidt Ocean Institute plus other expeditions with the Flower Garden Banks National Marine Sanctuary conducting science communication and education programming. She recently served as one of the NOAA Ocean Exploration facilitators and contributed to the 2022 National Ocean Exploration Forum and to Ocean Exploration: Blueprint 2032.  
As an Education Specialist with NOAA Ocean Exploration, she helps to develop and lead the ocean exploration educator professional development efforts and the main components for content development. She is also the proud Founder and CEO of the Gulf Reach Institute, a non-profit dedicated to innovative and inclusive STEM, Health, and Advocacy programming focused on the Gulf of Mexico and our oceans. She is a mother, a wife, a marine ecologist, an educator, a FirstGen Latina, a STEMpreneur, an ocean lover. She has dedicated to giving back to her community, especially by working with LatinX/BIPOC youth, science communication work, and environmental justice issues. 
She loves being outdoors, spending time with her family, and teaching everyone about the ocean.