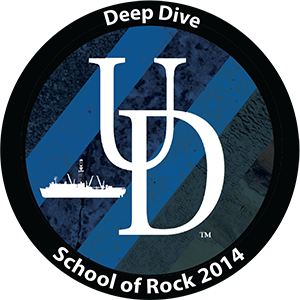 School of Rock 2014: Deep Dive
The 2014-2015 school year will be the launch of the Next Generation Science Standards for many districts and what better way to get ready then to immerse yourself in cutting edge science with science professionals, and work with your colleagues and education experts to develop plans for the school year.
We will work in high tech labs with microbiologists who are investigating the ecosystems and microbial diversity below the seafloor and geologists who search for clues to Earth's evolutionary history through the study of microfossils. The process and nature of science will provide a framework for discussions and activities that will connect the experience to classroom instruction. We will also integrate youth development.
Meet our Instructors & Staff
Jennifer Biddle – Microbiologist
College of Earth, Ocean, and Environment – University of Delaware
My research is focused on microorganisms in the environment, and understanding what they do and where they are. Environments we examine include local marine sediments, the deep biosphere and microbialites. We examine microbial diversity at all levels, including bacteria, archaea and fungi. We employ next generation, high throughput sequencing techniques and bioinformatics, cultivation and geochemistry techniques in our studies.
---
Jennifer Collins – Teacher & School Program Specialist
Consortium for Ocean Leadership – International Ocean Discovery Program
I have been with IODP for over 5 years, bringing scientific ocean drilling science to students, teachers, and the public. My favorite part of my job is managing the School of Rock programs! Before coming to this job, I taught middle school and high school science and math, worked at the Museum of Paleontology at UC Berkeley on projects such as Explorations Through Time, the Understanding Evolution website, and Understanding Science website, and developed curriculum and museum materials for different folks. In my free time I work on efforts to bridge the gap between the science community, educators, and the public through the Coalition on the Public Understanding of Science. I love to travel, and because of my job and because my husband is a marine biologist, I have traveled to many great places to do science with a diversity of scientists.
---
Lisa White – Education Assistant Director
Unverisity of California, Berkeley – Museum of Paleontology (UCMP)
I joined the UCMP in July 2012 after a 22-year history at San Francisco State University where she held positions of Professor of Geosciences and Associate Dean of the College of Science and Engineering. She taught undergraduate classes in paleontology, historical geology, and the history of life, and guided research projects with graduate students in Miocene diatoms of the Monterey Formation of CA, and fossil cold seep assemblages in the Franciscan Complex.
---
Jo Johnson – Social psychologist
Wiggle Room and City of Arlington
Jo is a licensed clinical social worker, author and entrepreneur. In the past 37 years, she has worked at local, regional and national levels serving children, youth, families and communities in 16 states. Her expertise in connecting-the-dots is evidenced in her first publication, Wiggle Room: Making Space to Grow and Change!© . This series of e-documents offers new perspectives on developing teen programs based on a community's stage of development; engaging at-risk youth stuck in survival roles; and creating strong youth groups where all teens feel safe enough to make mistakes, ask questions and try on new behaviors. (Available 6-1-14) Jo will be adapting Wiggle Room core concepts for use in the classroom so that teachers can engage all students in learning.
---
Trish Mace – Ocean Education Specialist
Smithsonian's National Museum of Natural History
I am the ocean education specialist for the Smithsonian's Sant Ocean Hall and new, teen-focused Q?rius at the National Museum of Natural History. I also manage the Museum's partnership with the National Science Foundation's Centers for Ocean Sciences Education Excellence, and education partnership with the National Oceanic and Atmospheric Association. In these roles I get to work with and learn from scientists studying the ocean from its origins to the present, and from microbes to whales.  I enjoy developing programs and activities to share my excitement for ocean discovery and foster an awareness of ways we are all connected to the ocean.
---
Katie Fillingham
I am the program specialist with the US Science Support Program!
---
Meet our Participants
---
Gloria Allen
Having sought out exciting teacher based learning opportunities in my twenty plus years of teaching, I am looking forward this journey. I never like teaching something the same way all the time. Hence, I am open to opportunities to become stronger and more skilled. This has always added to and sustained my excitement for teaching and learning. Teaching at levels ranging from elementary to middle school allows me to understand foundation and connection components.
---
James Bradley
I am a 12 veteran of the secondary school setting . I have also taught as a Adjutant professor for the last 7 years. I have taught classes such as chemistry , biology, environmental science, physics and microbiology .
---
Binni Chadda
I am an Allied Health teacher at Friendship Collegiate Academy, a public charter high school in Northeast Washington, DC. I teach Foundations of Health, Anatomy & Physiology and Biotechnical Engineering and am almost finished with my first year as a teacher (I have a Master of Public Health in epidemiology and worked on health research studies for 13 years). As a new teacher, I am looking for interesting, more hands-on professional development opportunities and seek out cool ways to teach science.
---
Jim Evans
I have been teaching in DC Public Schools for over twenty years. I am currently teaching biology and marine science at School Without Walls. As part of our marine science program we have a scuba club through which students have earned their open water scuba certification and travelled to the Caribbean to scuba dive and study marine ecosystems. In collaboration with a local dive shop, we are planning to set a resource center based on coral reef conservation. Through Dive Deep, I am hoping to get activities that I can use in both biology and marine science classes.
---
Teana Fields
I am Teana Fields hailing from the Washington, DC area. I hold both my Bachelors and Master's Degrees in Secondary Science Education. I have taught science for the past 4 years. I currently teach Environmental Science (both AP and general) at Friendship Collegiate in Washington, DC where I also balance being the Science, Technology, and Engineering Curriculum Coordinator. I can not wait to "Dive Deep" into this summer professional development!!
---
Ronald Jackson
I love to learn and share my knowledge.
---
Marnie Jones
I have been teaching science for over 20 years. I have degrees in Environmental Science and Biology and I love every minute of it! Teaching science is a great experience because it never gets boring and always changing. You learn something new each day!
---
Alicia Jones
Alicia Jones is beginning her 4th year of teaching Biology at Friendship Collegiate Academy in Washington, DC. She began her career by teaching underserved students Chemistry and Environmental Science in Dallas, TX. When she is not being a phenomenal teacher, she is decorating her new home with DIY projects. By attending Dive Deep, she hopes to gain new strategies and resources to bring back to DC.
"The mission of Friendship Public Charter School is to provide a world-class education that motivates students to achieve high academic standards, enjoy learning and develop as ethical, literate, well-rounded and self-sufficient citizens who contribute actively to their communities."
---
Kristina Lowe
I am single mom to a beautiful 12 year old daughter!!! I love animals: I have cats, dogs, turtles, fish & bearded dragon. I enjoy being outside. I love gardening, relaxing at the beach with a good book or just being surrounded by Mother Nature is amazing. I have been teaching 8 years. All 8 years have been in middle school. I alternate between 7th & 8th grade. I absolutely love teaching. It is rewarding, challenging and I am so blessed to be educating the youth.
---
Derek Moore
---
Mary Murrian
My name is Mary Murrian and I currently live in Dover, Delaware, however, I was born and raised in Tennessee. I have one son, Robert, who will start his junior year, in the Athletic Training program, at the University of Delaware this fall. I have been teaching for 10 years. I earned two Master's Degrees, one in Elementary Education K-8 and one in Gifted and Talented Education. I received my undergraduate degree in Business Management & Marketing. I currently teach math and science to both regular education and gifted and talented students. I love teaching and watching my students become thrilled about learning the different strands of science we experience daily in the classroom. I also coach two robotics teams using Lego Mind Storms materials. I am extremely excited that this July, I have the awesome opportunity to sail through the Gulf of Alaska and Bering Sea with the Teacher at Sea program. I will be aboard the NOAA Ship, Oscar Dyson and be part of an eight man science team. The purpose of the cruise is to determine the abundance and health of walleye pollock, one of the biggest and most valuable fisheries in the world. As well at my trip with NOAA, I am delighted to be selected for the Deep Dive School of Rock. I cannot wait to experience everything the program has to offer. I am a lifelong learner!
---
Elizabeth Nowak
I am a biology teacher at a votech high school in Wilmington, Delaware. Being a science teacher is the next best thing to being a perpetual student because no day is ever the same, we get to occasionally "blow up things," and I learn something new every day. I came to teaching later in life. I worked in biochemical research before having my children (6 of them, ranging from 23 to 4 years old) and then edited science textbooks and worked part-time jobs for 13 years. I started teaching a decade ago, and now I live the chaotic life of a working mom, and I look forward to this week-long science geek-fest (my idea of a fun vacation)!
---
Mike Osborn
I am the biology team leader at Marshall high school in Falls Church, Virginia. I have taught for 15 years and am currently teaching honors freshman biology and the IB HL II biology class. I have a strong passion for science and have conducted phylogenetic studies in deep sea aquatic communities of the Pacific coastline.
---
Zamaria Rocio
Zamaria Rocio has taught K to college level students over the past several years. Her true passion is science and enjoys learning new and innovative ways of presenting it to her students.
---
Sui King Dawn Shum
Dawn Shum is currently teaching Math and Science research club at the High School for Innovation and Excellence. Dawn is a strong advocate of STEAM including literacy in school, so that students learn to make a holistic connection in life.
---
Joe Skahan
I am a Special Education Teacher for the Lynn Public Schools in Lynn, MA at the Fecteau Leary Jr. Sr. High School. Fecteau is an alternative high school and I teach in the therapeutic behavioral program grades 7-12. I teach Marine Biology, Biology, and 7th and 8th grade science. It is a job I truly enjoy. In my free time I enjoy going to the beach with my service dog Dusty, SCUBA diving the frigid waters off of the East Coast, and playing with my band The Boogie Bros. I also keep and maintain a website www.mrskahansciencedude.edublogs.org with tons of resources for science educators and you can find me on Facebook www.facebook.com/mrskahansciencedude
---
Molly Smith
My name is Molly Smith, and I am a Chemistry teacher at Cardozo High School in Washington, D.C. I have been a science teacher for 27 years in Texas, New Mexico, Virginia, and D.C. I enjoy coaching Science Olympiad and Science Bowl teams, and preparing students for science fairs. I love working with my students in the lab, and I am looking forward to learning more about helping students understand how to conduct research during this adventure.