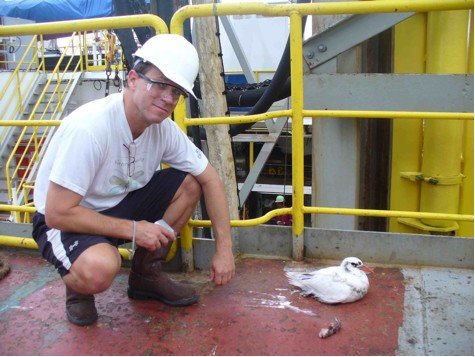 From Adam to Earth Scientists in Training VIII
I HAD TO SHOW YOU A PICTURE THAT LISA TOOK OF ME WITH THE RED-TAILED TROPIC BIRD. AFTER COLLEGE, I WORKED WITH A BIRD BIOLOGIST ON MIDWAY ISLAND WHICH IS NORTHWEST OF HAWAII.
THIS IS ONE OF THE TYPES OF BIRDS I WORKED WITH. THEY NEST ON THE GROUND UNDER BUSHES AND HIDE THEIR BABIES UNDER THEIR WINGS. I HAD TO PUT A VERY THICK GLOVE ON AND GENTLY TAKE THEIR BABIES OUT TO MEASURE AND WEIGH THEM. THEIR MOTHERS USUALLY BIT MY GLOVED HAND VERY HARD.
IN THIS PICTURE YOU CAN SEE HOW LONG AND BEAUTIFUL THE TAIL FEATHERS ARE. THEY TYPICALLY HAVE TWO OF THEM. THEY ARE RED WITH A BLACK STRIPE DOWN THE MIDDLE AND ARE ABOUT ONE FOOT LONG. THEY SOMETIMES SHED THEIR TAILFEATHERS, BUT THEY GROW BACK.

HERE ARE TWO CLOSEUPS OF THE RED-TAILED TROPIC BIRD. IN THE SECOND ONE YOU CAN SEE HOW SHARP AND STRONG THE BEAK IS. THEY USE IT TO CATCH FISH!
THAT'S ALL I HAVE FOR NOW. WE'VE SEEN SOME OTHER BIRDS AND FISH, BUT WE DON'T HAVE PICTURE OF EVERYTHING WE SEE. WE DO HAVE GREAT MEMORIES OF THEM IN OUR MINDS!
BYE FOR NOW.
ADAM