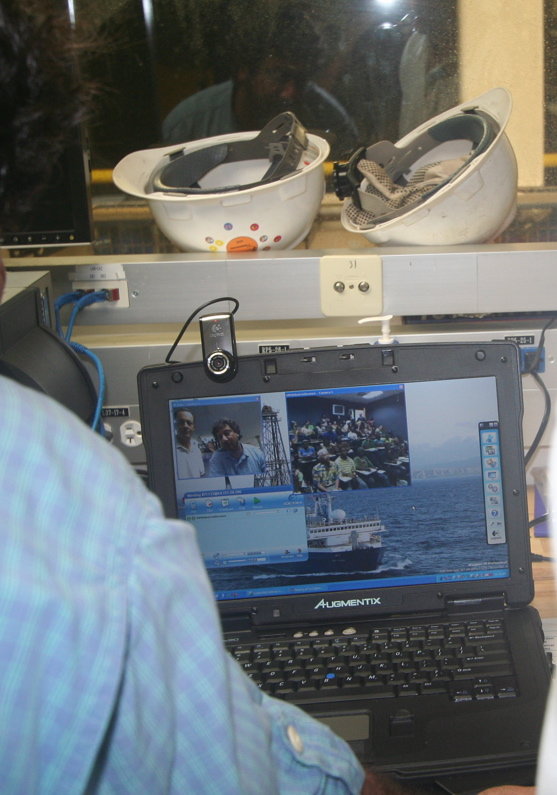 Hooray for Earth Science Week!
Happy Earth Science Week!
As I write this, Sharon is on her way to the Smithsonian's Sant Ocean Hall where she'll work with Ocean Hall educator Elizabeth Ban and current JOIDES Resolution education officer Nasseer Idrisi to facilitate a special Earth Science Week video broadcast.  I'll join them when I'm done here.
What have you done to celebrate Earth Science Week?  Here are a few suggestions:
1)  Check out the Earth Science Week website and newsletter.  Better yet, sign up to receive the newsletter.
2)  See where the JOIDES Resolution is and what she's doing today.
4)  Do you Tweet?  Do you have a Facebook page?  If so, then follow the JR on Twitter or fan the JR's Facebook page.  We've got 977 fans now.  Can you and your friends make it an even 1000 by the end of Earth Science Week?
5)  If you're a teacher, arrange a video conference during one of the upcoming expeditions!  Nasseer is pretty busy with them now — in fact, he's got two today, including one with Patti Cleary, School of Rock 2009.  How do you go about video conferencing?  Drop us a line using the comment function below and we'll get you started (first come, first served — you'll need about a month to prepare). And say a word of thanks to the good folks at IOCOM for providing the software and technical support to make our video broadcasts possible.  It's an official partnership now and by the end of this expedition we'll have more than 30 broadcasts under our belts!
6)  Teachers and museum educators can also consider submitting an abstract to our session at the Ocean Sciences meeting.  It's ED03: Using the Internet in Real Time Ocean Research for Education and Outreach.  Here's the description:  This session will explore examples and lessons learned on the use of expedition and research project web sites and internet tools to engage and involve students and teachers in real time ocean research. Live ship-to-shore or site-to-classroom video conferences, daily updates to cell phones and mobile devices, Ask-a-Scientist capabilities and much more are allowing students to become intimately involved in ongoing research at sea. Come explore successes and challenges in this ever-more-connected and digital world.
The abstract deadline is Thursday, October 15, 2009, so get moving…
Yikes, got to run!
Leslie on behalf of Sharon and Jen and all the volunteer teachers and scientists at Deep Earth Academy
Photo:  Looking over his shoulder as Nasseer Idrisi, IODP Education Officer (University of the Virgin Islands) and Co-chief Scientist Will Sager (Texas A & M University) conduct a video broadcast from the Core Lab.