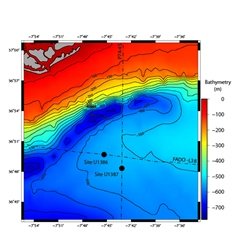 How do the scientists choose where to drill?
We had targeted these first two sites (U1386 and U1387) on one of the world's best known giant elongate drifts that had never yet been drilled – the Faro Drift. This drift is about 100 km long, up to 20 km wide and over 500 m thick, with an estimated volume of around 1 billion cubic metres of sediment. The contourites deposited on the Faro Drift for about the last 5 million years of Earth history, hold the very best signal of Mediterranean Outflow Water (MOW) through the Gibraltar gateway, and a clear record of its influence on the oceanography and climate of the North Atlantic Ocean.
Ao longo das últimas duas semanas tivemos como objectivo perfurar dois locais situados numa das cristas contorníticas melhor conhecidas em todo o mundo, mas que nunca tinha sido perfurada – a crista de contornitos de Faro. Esta crista contornítica tem cerca de 100 km de comprimento, até 20 km de largura e mais de 500 m de espessura, com um volume estimado de cerca de 1000 milhões de metros cúbicos de sedimentos. Os contornitos ali depositados nos últimos 5 mil milhões de anos da história da Terra contêm a melhor evidência do fluxo da Veia de Água Mediterrânica (VAM), que atravessa o Estreito de Gibraltar, e um registo claro da sua influência na oceanografia e no clima do Oceano Atlântico Norte.
3D Bathymetry of the Álvares Cabral Moat region near the Faro drift. The two black dots show the location of the Sites U1386 and U1387.
Batimetria 3D da Fossa Álvares Cabral na zona da crista de contornitos de Faro.
The Expedition 339 co-chief scientists Prof. Dorrik Stow and Prof. Javier Hernández-Molina (and many other scientists) proposed several drilling sites based on scientific data collected previously. Especially important were the multibeam bathymetry data and a dense network of existing high-resolution seismic reflection profiles. The marine seismic reflection data were particularly important because they permited to produce images of the rock layers below Earth's surface.
O Prof. Dorrik Stow e o Prof. Javier Hernández-Molina, agora responsáveis pela Expedição 339, e muitos outros cientistas escolheram os vários locais a perfurar com base em dados científicos obtidos anteriormente. Particularmente importantes foram os dados de batimetria multifeixe e uma densa malha de perfis de reflexão sísmica de alta resolução já existentes. Os dados de reflexão sísmica marinha foram particularmente importantes porque permitem produzir imagens das camadas de rochas situadas abaixo da superfície da Terra.
Multichannel seismic reflection profile across the Faro drift on the middle slope of the Algarve Margin (Stow et al., 2011)
Perfil de reflexão sísmica de alta resolução ao longo da crista de contornitos de Faro no talude continental (Stow et al., 2011)
Questão: Para além da sismologia que outros métodos indirectos são usados pelo geocientistas para estudar o nosso planeta?
Question: Beyond seismology which other indirect methods are used by the geoscientists to study our planet?