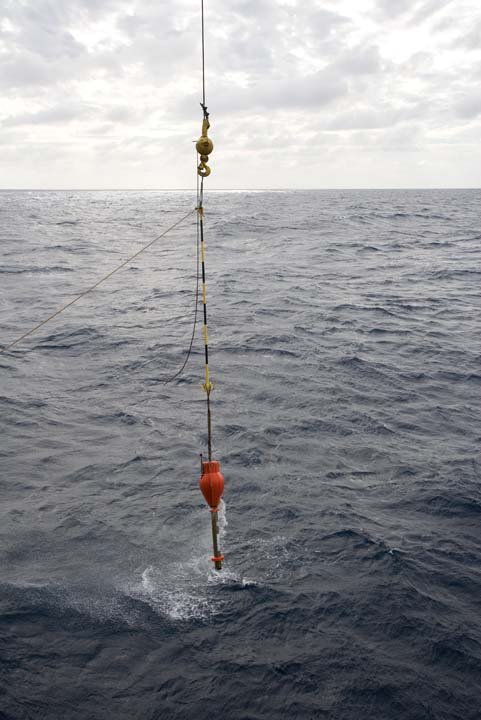 Editor's Note:  We haven't published Ron's JR Daily since last Wednesday, but he didn't stop writing them.  We were so busy posting video and photos for the teachers at NSTA that we're lagging behind.  Today, we're backtracking to the transition between Site 1331 and Stie 1332. 
Complete operations and science reports are always available at IODP.
PRESENT ACTIVITY: Update as of 0730 hr 22 March 2009   Departed Site U1331 at 0500 hr and are underway on an easterly heading into a 20-knot wind and fighting a strong current. We are presently averaging ~7.5 knots which will have us arriving at PEAT-2C at  approximately 1430 hr this afternoon. Moderate pitching and rolling into a 6 to 8 foot swell with mostly cloudy skies and excellent visibility.  No Sunday picnic today…
CORING:  Cored sections 12H to 14H (129.0 mbsf to 157.5 mbsf).  Dropped the center bit and drilled ahead from 157.5 mbsf to 177.0 mbsf (15D). Piston cored U1331C-16H to 17H (177.0 mbsf to 189.0 mbsf).  Both cores succeeded in obtaining previously elusive sediment specimen directly above basement. Five cores were drilled with 40 meters cored and 43.52 meters recovered.  Pulled out of the hole with the drill string and positioned bit at 4210 mbrf. Cleared seafloor at 1300 hr; recovered beacon at 1530 hr.
Challenge: Why do you think we drilled instead of coring from 157.5 50 177.0 mbsf?  Use the Comment function at the bottom of the page to send your answer. 
LOCATION: Site U1331: Hole U1331C (PEAT-1C) Final Position:12°04.0892' N, 142° 09.7201' W; Calculated Water Depth: 5128.0 mbrf / 5116.9 mbsl
WEATHER: Heading: various. Wind: 15-22kt gusting 25 kt @ 030°-050°; Seas: 6 ft @ 8 sec from 040° Swell: 8 ft @ 8 sec from 050°, Sea Water: 25.7°C; Barometer: 1014 mb rising; Air: 25°C; Heave: 6 ft; Max Pitch: 2° @ 8 sec; Max Roll: 2° @ 8 sec.  Cloudy with good visibility.
OPERATION PLAN: (next 24-48 hours): After arrival on PEAT-2C (U1332) we will trip the pipe and core to basement.  APCT-3 temperature measurements during Hole U1332B coring. Log first hole with Paleo Combo and other tools.
CURRENT TIME ZONE:  GMT -10 (Hawaii Time)
Photo:  Hoisting the hydro acoustic beacon at Site 1331C.  Credit: Bill Crawford, IODP Imaging Specialist.