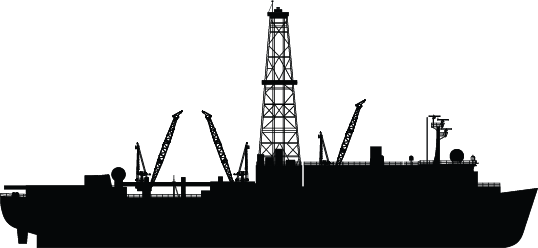 JR Profiles Episode 14: Sandra Herrman, Assistant Lab Officer
I got to talk with Sandra Herrman, the JR Assistant Lab Officer to find out learn about what a lab officer does on IODP expeditions. Check out Sandra's interview below!
Tell us a little bit about yourself…
My name is Sandra and I work as an Assistant Laboratory Officer on the JOIDES Resolution. I oversee a 12-hour shift during which I lead half a dozen technicians and orchestrate the workflow in the laboratories.
What is an average day like for you at work?
My day starts with getting a coffee in the galley and heading up to the Bridge Deck to cross over with my counterpart. As ALO's, we usually cross over 1/2h before the rest of the technicians. That way we have a head start before the rest of them come on shift.
A regular day can include anything from core lab/catwalk duties like splitting cores, running instruments, or curating rocks to updating consumable inventories, running underway measurements, getting IODP store orders together and communicating with scientists, the staff scientist, and technicians about the current operational plan. We also keep in touch with the shore department to discuss consumables and shipping for upcoming expeditions. After work I usually get a bite to eat before heading to the gym or I meet my fellow co-workers for a movie in the movie room.
What would you say are the biggest challenges in your job?
Being away from family and friends for long periods of time. You can't just drive over or call.
What are your favorite parts of your job?
Definitely working with people from different cultures/backgrounds and helping the science party as they transition from a group of shy, unsure people to a well-oiled machine that accomplishes the goals that were set at the beginning.
What's one thing you've learned that you wish you knew when you first started this job?
Nothing – it was perfect the way it was. If you know too much upfront, you'd miss out on lots of great opportunities.
What's one of the most interesting things you can think of that's happened on the job?
During one expedition, we had to go into port to get a part fixed on the ship. The timing was right around week six. Week six is usually the worst week – people have been on the ship for a long time and it still feels like the last 2-2.5 weeks will never end. It is also the time when we run out of fresh vegetables.
We were getting into Singapore at the time and it was the most wonderful feeling to step off the ship after shift and take a run in a city that was full of greenery, hearing the birds, and seeing the beach (from the land side!).