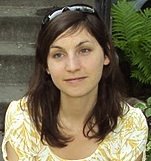 Lab Specialist – Nicholette Zeliadt
Good morning! The scientists bring some of their own lab equipment but there is a lot of large equipment that stays on the ship permanently. Since the scientists can't be familiar with every possible type of instrument, a small group of specialist are here to assist them in many ways. Today, I am going to tell you about one such person.
Nicholette is a Lab Specialist on Expedition 329 where she works closely with scientists in the microbiology and chemistry labs, aiding with sample preparation. Nicholette recently earned her PhD in Environmental Health Sciences from the University of Minnesota. This is her first cruise and in fact, her first time at sea, so she is looking forward to a new experience. So far, she is enjoying her time aboard the JOIDES Resolution.
Nicholette grew up in Iowa and then moved to Minneapolis to go to graduate school. She spent this past summer writing for the journal Scientific American. After this expedition, she will return to Minnesota to teach two classes in public health at Macalester College.
For fun, Nicholette likes to play piano, something she has done for 25 years. When we arrive in Auckland, New Zealand, Nicholette and her sister, Stephanie, also on board, plan to explore the wonders of New Zealand.