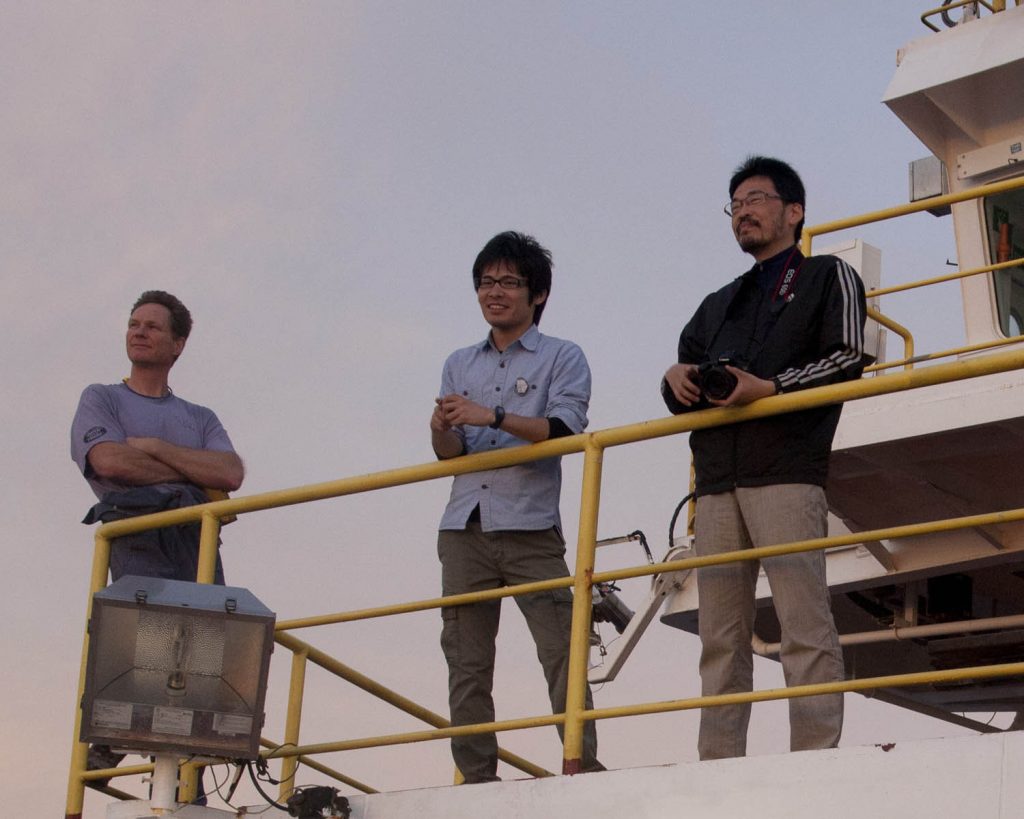 Meet 340 Research Specialist: Thomas Gorgas
This blog was composed by Thomas Gorgas, a 340 Research Specialist in the Physical Properties area of the Core Lab. Enjoy Thomas' contribution. "It is now about 3 years ago that I started to think about becoming a 'Lab Tech' on the JR (we are more formally called 'Research Specialists').  However, as a 'PhD' not serving science and the community as a 'professor', but as a 'Tech' this was a challenge at first to imagine.  Nevertheless, in my view this job is all about 'serving others to succeed', and I do this with great joy in my heart out here during every expedition; and sailing out here and helping our scientists to get the precious Earth material and to succeed with their measurements, we have the greatest positive impact on each designated IODP mission & voyage. So, this certainly fits my own personal desires & strengths.
Photo credit, Etienne Claassen, 340 Marine Instrumentation Specialist
Back then (in 2009) I thought for several months about the offer to join the JR-team as "full-time staff', and one of the major reasons why to even consider this 'career move' was the growing outreach & PR work that has been performed throughout every expedition — reaching out to the general public and in particular K-12 school kids of all ages. It was such a strong component of the IODP Mission from the Get-Go that I could not resist to feel that I want to support this operation because it also serves the purpose to motivate and hopefully inspire young children & students around the world to 'think science' and 'do something' worthwhile in their own life – be it in the field of science, engineering or any other professional field that is exciting, while perhaps also exploring, preserving, restoring and maintaining our beloved Planet.
Photo credit, Etienne Claassen, 340 Marine Instrumentation Specialist
Teresa Greely who is the Education Officer for this on-going EXP340 has been doing an excellent job, working with several of our scientists, staff & crew members alike to get the message out — about science, our mission and the joy of living an extraordinary and exciting life style out at sea. Take my message as an encouragement for past, present and future sailing Education Officers. Since I set sail on the JR in early 2009 the path of unearthing secrets from Mother Earth: inspiring and motivating children of all ages (and perhaps even some adults, too!) about science and the importance of what we are doing out here — hopefully for the greater good of mankind. Thank you, Teresa and all previous Expedition Education Officers, for doing such a fantastic job with and for all of us out here on The JR!"
Photo credit, Etienne Claassen, 340 Marine Instrumentation Specialist