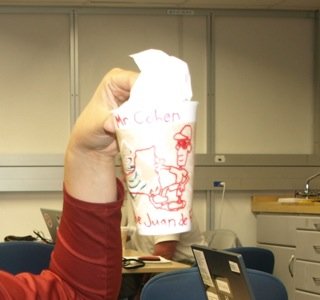 We should be arriving to Site U1301 any minute now. It will take time to get the ship stable and into position before the cementing of the holes can take place. I plan to explain this process tomorrow. I am too tired to do it right now.
On a personal note it's important to me that friends of Eric Cohen know that he will be traveling to the Juan de Fuca Plate (in a symbolic way of course). One of my colleagues (Cindy Fong) brought foam cups with her so that we could draw on them and send them to the ocean floor during the cementing operation. Another colleague, Kevin Kurtz, drew a cartoon image of Eric with one foot on Long Island and the other on the Catskills. For those who do not know, Eric Cohen was an Earth science teacher in West Hampton Beach, NY who recently passed away unexpectedly. He was known by  many as a great mentor, friend and athlete. The Earth science community and his family continue to mourn this loss, but we also celebrate his life in our adventures. I have been thinking about him a lot this week. In fact, tonight I thought about Eric while watching this sunset.
I hear loud noises and it seems we've stopped. I think that the ship is being stabilized!