New Beginnings: Expedition 385T
Antofagasta is a place most tourists would never think to visit. It's located in the far northern desert of Chile – a concentrated city of high rises and malls packed in on one side by looming barren mountains as far as the eye can see, and on the other side by the ocean. Imagine living on Mars, and you'll get an accurate idea of what the area looks like (minus the ocean). But this region is a literal treasure trove of interesting geological artifacts and legacies, sprawled across the landscape like a 3-D map leading to the deep past.
This is where our JR Academy students spent the first two days of their adventure before we boarded the ship. Geologist Jon Lewis guided our group of students, course instructors, and education/outreach team through the geologically rich coastal ranges and valleys north of Antofagasta city. In a caravan of 4 cars, we drove across desert valleys, winded through steep mountains, and hiked down coastal cliffs to explore this geological playground. We also found some amazing empanadas (A Chilean staple) and local seafood to satiate us along the way.
A Hands-on Learning Experience
The JR Academy is a brand-new addition to the U.S. Science Support Program (USSSP). For the first time, 12 undergraduate students will join an expedition and complete coursework on oceanography and geology while being immersed in ocean science onboard the JR. Each student brings unique perspectives, expertise, and interests that together create a diverse group that can learn from each other as well as the course instructors and scientists. The students come from all over the U.S. and from many different universities and majors, but will spend a month working together to develop their scientific research and communication skills.
As one of the onboard education/outreach officers, I'm excited to work with students to broaden their science communication experience and teach some of them how to make science videos from start to finish. Two other E/O officers are onboard as well, and we were fortunate to have some 'bonding time' with the students and their instructors before we even set sail!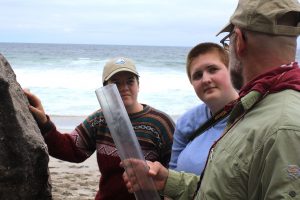 Last night, after a full day's delay, the JR pulled out of the Antofagasta port and Expedition 385T officially began. Most of the students, scientists, and crew climbed to the top deck to watch the nighttime lights of the hillside city fade away as we slowly cruised into open ocean, until eventually the ship was surrounded by darkness. Now, we are heading toward our research site off the coast of Panama, which should take about five days. During the transit, students will hear presentations from the science party (including our 2 amazing female co-chiefs, Masako Tominaga and Beth Orcutt) and technical crew, and have opportunities to interact with them informally and learn about their career paths.
This expedition, 385T, is shorter than a normal IODP (International Ocean Discovery Program) expedition – one month instead of two months – and the research that will be conducted on site is somewhat opportunistic. The 'T' in our expedition number stands for 'Transit', which means that the main goal of these 4 weeks is to transport the ship from its last port-of-call in Chile to its next in San Diego. Since there is a significant drill site along the transit path where scientists hope to collect more data, an abbreviated science component was added to the expedition and a small science party was approved to join. Since only five scientists are part of this expedition (there are usually around 30), there was enough extra space to host our undergraduate students, and so JR Academy was born!
 The Science 
Expedition 385T will revisit two 'legacy sites' – locations where holes have already been drilled in the past – to build upon what we know about the upper oceanic crust where these sites lie. One of the holes, 504B, has served as a key reference site for upper oceanic crust environments for decades (it was drilled in 1979!). The scientists intend to string equipment down into the holes that will collect information about the temperature, structure and chemical makeup of the solids and fluids beneath the seafloor, all of which can help illuminate sub-surface processes like volcanism and plate tectonics. They also hope for the chance to collect fluid samples from within the holes and bring them back onboard to look for evidence of microbial life. Together, the knowledge gleaned from studying these holes can help us understand how the planet has evolved and changed throughout its existence, and also help us predict events like earthquakes, tsunamis, and climate change impacts. 
Collecting this data hinges on everything going as planned – which doesn't always happen on a ship out at sea. In order to get the data instruments down into the two holes, the team first need to remove an array called a Circulation Obviation Retrofit Kit (CORK) that is plugging the top of each site. It's not always easy to remove CORKs. Picture the claw crane game you often see in movie theaters or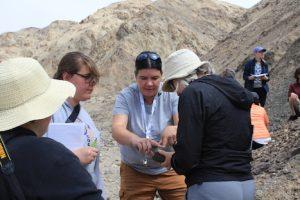 amusement parks, the one that always seems rigged because it's so difficult to grab a prize. That's kind of what it looks like to try and grab instruments off the top of a drilled bore hole – just add a couple hundred meters of wire to the top so that it can reach from the ship all the way to the seafloor below.
The engineering crew on the JR are incredibly skilled, but the CORK removal process is still difficult and risky. If it isn't "grabbed" in just the right way, it could break off the wire and fall to the seafloor, and some of it could even fall down the hole and damage it (like pieces of wine cork that fall into a bottle of wine). All of the maneuvering is done from the control room of the ship, while the captain tries to keep the ship as still as possible throughout the process (which could take hours). If both CORKs are successfully removed, then the science team can attempt to string their instruments down each hole and gather new information. Fingers crossed!
 As we continue on this expedition, I and my E/O team will continue blogging about the science, ship life, and science communication, so stay tuned for more about EXP385T and the JR Academy! In the meantime, you can read more about the science party and JR academy team, and follow along with us on JR Instagram, Twitter, and Facebook. If you have questions about the expedition, feel free to contact us via Tweet, DM, comment, etc.
To read the science prospectus for this expedition, click here.