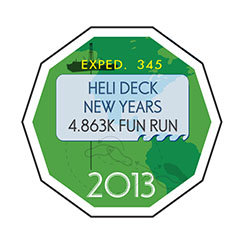 New Years Day 5K and Fun Run
For something that started out as a sarcastic joke…I'd say the actual event was pretty successful.
Naomi and I were sitting around the dinner table with a few other people in the galley one evening when she said, "So, I hear there's a New Years Day 5K run around the Heli Deck." I laughed and carried on with the joke, "Oh yeah! I heard that too. I think it's also a Fun Run." And with that, everyone was convinced it was a legitmate thing that they hadn't yet heard about. So, we carried on with details that we made up on the fly. Somehow by the next day, the co-chiefs were asking us about it. Other people were coming up to us and said, "Have you heard about the Fun Run on New Years?" It was pretty awesome.
The Heli Deck is located at the back of the boat. It's an octagonal shape platform where helicopters can land. You'd have to run 78.9 times around it in order to run the distance of 5K. And that's exactly what we did.
On New Years Eve people were asking what time it started, and at 9:30 New Years Day roughly 15 people showed up in total. 5 people completed the run, 3 people did a few laps (the Fun Run part of it), Jon Snow brought out his bike, and the rest stood by and watched to snap some photos.
I was so impressed with how many people actually participated that I decided to make these iron-on badges to give out to everyone.
The next part of the day was spent sun bathing on the lounge chairs near the front of the boat that's been dubbed "The Steel Beach." Not a bad way to ring in 2013.