An Adventure: By Sherry Frazier, Research Associate IODP
Every expedition brings a new destination, a new group of guest Scientists, and a new objective.This is not just a job, it's an adventure! Each time I board the JR at the beginning of an expedition I know that I am going to learn new things and meet new people! I know something out there is waiting to be discovered! I know I am going to be part of it, I know those answers are going to bring
about more questions…so the journey to learn more about the seafloor and our planet continues.
I am Sherry Frazier, Research Associate for IODP. I am a graduate of TX A&M, Ocean and Coastal Resources. I also studied Physical and Biological Oceanography at University of Queensland. I work two months at sea aboard the JR and 2 months at a shore-based lab. I work in the Physical Properties lab. We have the coolest up to date lab equipment anywhere! I am proud to say much of our equipment was invented at TX A&M with IODP specifically for the unique research we do onboard.
All of our Research Associates and Technicians are highly qualified, and are scientists in their own right. They include chemists, biologists, geologists, and more! They all have specialized skills to accomplish the tasks at hand to reach the projected goals of each expedition. On board the JR research is conducted 24 hours a day 7 days a week. There is a great amount of teamwork involved, and I am very proud to be part of this brilliant team!
Great Opportunity:  By Inva Braha, Core Lab Technician IODP
My name is Inva Braha. I first went to University of Tirana in my home county of Albania. I finished my Geology degree at Texas A&M. I hope to go back to school to study Paleoceanography and Micropaleontology. This is my first expedition with IODP as a lab technician. I am enjoying helping the scientists do their research, and I am learning a lot from it.I find it fascinating how the data is retrieved and recorded, and the speed at which it is acquired. The system on board is very precise, very well-organized process from receiving the core on the catwalk, to labeling,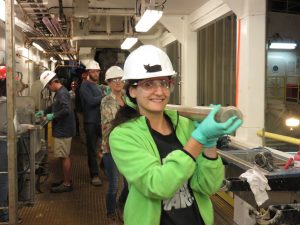 processing, data acquisition, curation and all the steps towards preparing the samples for the repository. I hope I have the opportunity to work and study abroad the JR again in the future.