Science on board – Chit-chat with a Paleomagnetist
Among the variety of geologists we have onboard of the JR there are the group of the Paleomagnetists. Let's discover something about one of them Steven Skinner, a scientist always available in inspiring students during the video connections, about the exciting world of Paleomagnetism.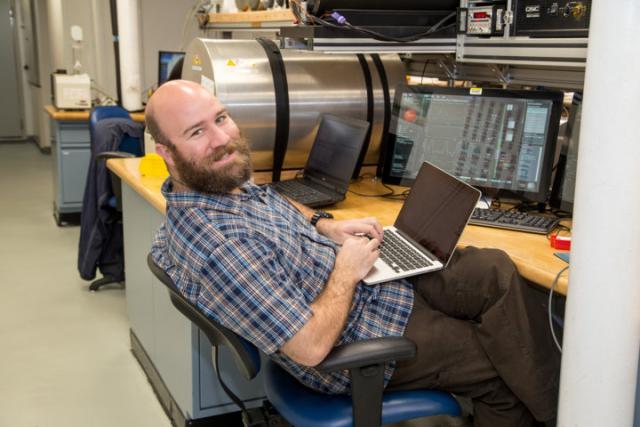 Q: Hi Steven , can you tell us something about you? Where did you study and where are you working now?
S: I was born and raised in Los Angeles, California. I earned undergraduate degrees in geology and economics at UCLA. I completed my PhD in geology at Caltech, working on subduction zone geometry and paleomagnitism of rift related volcanism. I have finally moved away from LA and I am now an assistant professor at Sacramento State.
Q: When did you decide to be a scientist?
S: I started college as an economics major and took geology to satisfy a general requirement. The study of the physical world fascinated me and I was hooked. I took another class in geology just for fun. The class was taught by a retired professor who was 50 years older than the students, but his enthusiasm in the field had us out of breath chasing him around. His love of the science was contagious.
Q: What is your job here in the ship?
S: On the ship I am one of the three paleomagnetists. We have several instruments to measure the magnetism of the whole cores and smaller samples taken from the cores. We run experiments to determine the direction of the Earth's magnetic field that is locked in the rocks when they form. We also run other experiments to determine the minerals that are producing the magnetic field that we are measuring. Comparing our measurements to a standard global timescale allows us to provide an estimate for the age of the rocks.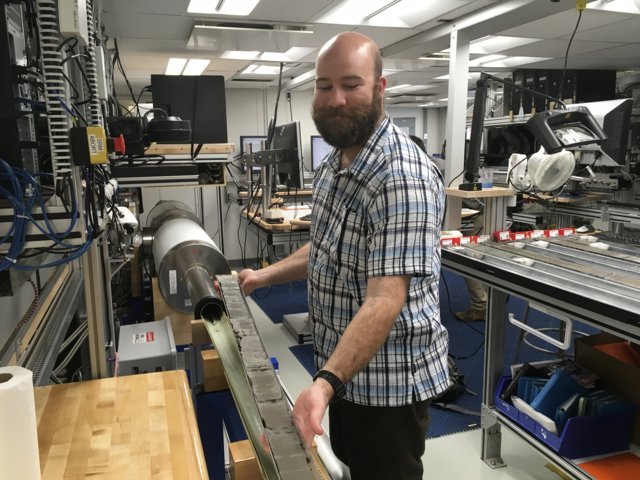 (Steven putting a section of a core in the magnetometer to collect data)
Q: What is the best thing on being a participant of this expedition?
S: The best part of this expedition is that we have something new to discover every day. We never know what the next core will contain. Each day we bring up rocks that have been buried for million of years and have never been seen by human eyes. To be a part of a team of 33 scientist that is working 24 hours a day to try to unravel the story behind these rocks is quite an honor.
Thank you very much Steven, it was an honor for me as well having the chance to meet you and know better your job!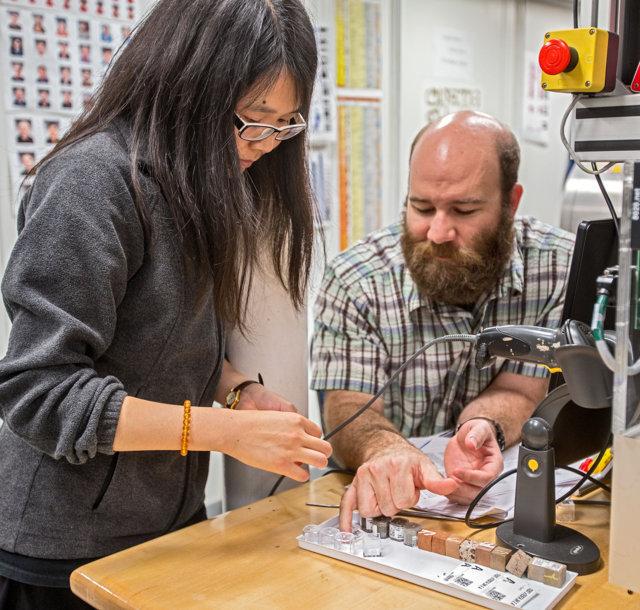 (Steven and Wendy, another paleomagnetist, working on the samples. Credits: Bill Crawford and IODPSO)