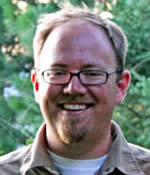 Science Party Guest Post – Brian Romans
Brian Romans is a geologist and assistant professor at Virginia Tech. He uses this blog to share photos from the field and write about interesting research in Earth surface processes and sedimentary geology. Brian is a sedimentologist onboard for Expedition 342. Don't miss his personal blog Clastic Detritus
Expedition 342 has begun!
Greetings from the JOIDES Resolution drillship (known as 'The JR' for short)! We left the Royal Navy Dockyard in Bermuda around dawn on Monday (June 4). Our first objective, which we are on our way to now, is an engineering test along the New Jersey continental margin. You can read more about the details of this test here, but the basic idea is to obtain some information about pore pressures directly in the borehole using a penetrometer. Such a tool has been used for a long time in the geotechnical industry, but doing it at sea from a floating drilling vessel has proven difficult. A group of scientists and engineers have worked on a new design over the past five years to eliminate (or, at least minimize ship movement effects) and are going to test it during real drilling operations.
Although this test is unrelated to the scientific objectives of Expedition 342 (it's merely an add-on that is logistically convenient), we are using the opportunity of core coming on deck to learn the workflow in a hands-on way. There are 30 scientists on board, split into two shifts (noon-midnight and midnight-noon), with each shift further split into lab teams (core description, paleontology/biostratigraphy, physical properties, stratigraphic correlation, and chemistry). Each lab team has a series of tasks to do with each core as they are brought up out of the seafloor. As someone on board who has been on one of these cruises said, 'It's a well choreographed dance when it's working well.' The short cores associated with the engineering test will essentially be our dress rehearsal for this dance.
We've been in transit for ~35 hours and the seas have been quite rough. Perhaps not rough for the seasoned crew on the vessel, but pretty rough for first-timers like me. I was feeling a bit seasick yesterday evening but am starting to get used to it, I hope. I think it's a bit too early for me to say too much about life on a ship, I'll blog about that at a later date.
It's been great to start to get to know people better during these first few days. There are 11 nations represented in the science party and a huge diversity of scientific backgrounds – paleoceanographers, paleobiologists, tectonicists, geophysicists, sedimentologists, climate scientists, and more. The technician crew is top-notch, these are people that have been on multiple cruises and know the ins and outs of the software and workflows related to processing the cores. I haven't yet had a chance to interact with the drilling crew too much, but there is plenty of time. What I have noticed is that all the crew love doing this job. It's impossible not to sense the excitement and comradery on the JR.
The JR docked at the Royal Navy Dockyard

My view for the next two months