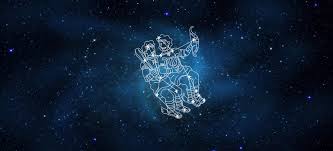 Stargazing at Sea – Sparkly Night Shows Aboard the JOIDES Resolution
Sometimes working the night shift has sparkly benefits! Lately, we have been going outside on deck at night to take advantage of most of the lights being off during our transit across the Southern Ocean and Tasman Sea, from Australia to New Zealand. The stargazing has been great, with beautiful starry skies ✨ and an easily visible Milky Way galaxy spreading across the sky – things that are difficult to see when you live in populated areas with too much light at night! The Southern Cross and Orion constellations, among others, have shone brightly in the night and have been easy to spot. Being that I am from the Northern Hemisphere, it took me a little bit to get used to where everything is here in the Southern Hemisphere skies so I have definitely appreciated things that are easy to find. But it's worth the initial confusion of trying to find the sparkly things of the night. And I have had the help of a trusty Southern Hemisphere "local" star map to guide me, too!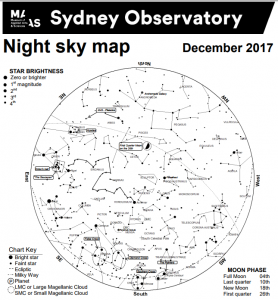 December 2017 Star Map for Australia (Credit: Sydney Observatory, full document – https://maas.museum/app/uploads/sites/6/2017/12/StarMap-December-2017.pdf)
On December 10, 2017 I saw a really big and bright meteor streak across the Southern Ocean sky close in our atmosphere. It was one of the best I've ever seen! Speaking of meteors, we have been treated to a good show the past several nights. Tonight (December 14, 2017 here on the ship) was the peak for the Geminid meteor shower! Some of us avid stargazers have already been spotting meteors over the past couple nights, including some really close and bright ones. It has definitely been worth checking out despite the chilly sea breezes we get at night. These meteors generally radiate out from the Gemini constellation. Since Gemini is very low on the horizon and not very visible at this time of the year in the Southern Hemisphere, we unfortunately don't get to see as good of a show as further north…But, we have expected up to dozens of meteors per hour, which is still pretty good in my opinion; and we have had few lights on during transit and a new moon working in our favour as well.
Tonight we had a mini star party up on the top deck to watch for the meteors. The good news is that the lovely Southern Hemisphere night sky delivered on it's promise of meteors. It does require a little patience though… But, with patience and perseverance, we saw dozens of bright and beautiful meteors tonight!
Here is a decent summary article that provides an overview of the meteor shower: http://www.abc.net.au/news/science/2017-12-12/geminids-meteor-shower-and-phaethon-asteroid-in-december-sky/8256128.