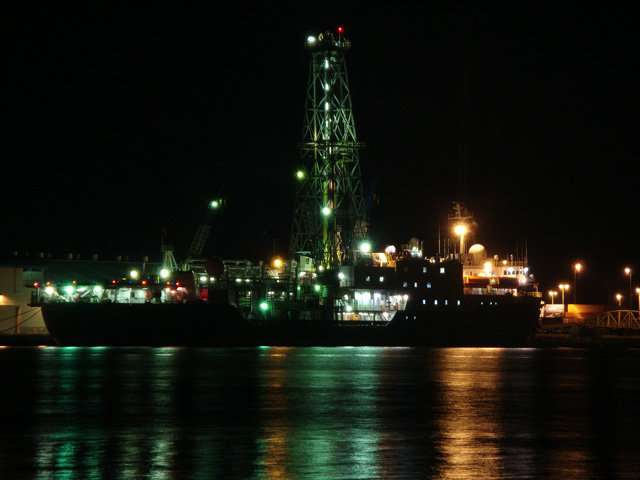 The JOIDES Resolution at night while still anchored in Honolulu Harbor.
June 1st, 2009
Hello again everyone!  Remember when I said our planet, the Earth, is like a ball?  Well our planet sits in space and is surrounded by lots and lots of stars that are very far away.  Many of them are bigger than our sun, but they are much dimmer and look smaller because they are so far away.  Right now the sun is still out when you go to bed, so you can't see them, but ask mommy and daddy to show you stars in the sky when winter comes in a couple months.  You will be amazed at what you can see!  When you look at the stars, you can often connect the stars like a connect the dots picture, and create pictures that tell stories.  There are many stories to be told in the sky, such as the story of Orion and Scorpio, or Draco.
I love looking at stars, and even though I have lived in many places in the country, I am always looking at the same sky.  No matter where in the country you live, it is the same sky above you and everyone else.  But if you go far enough to the south on the planet it is a different sky.  They see different stars than we do.  On the Equator, where we are now, we get half of the sky with the stars we are used to, and half of the stars are new to us.  I have spent many hours looking at the stars, and gotten to know there stories well, so it is strange to see new stories in the sky that I don't know yet.  It is comforting still seeing Orion chase Scorpio away from his love (ask your parents for the story!), but it is exciting to see a new sky.
We are almost done with digging up the mud from this site.  We should finish in about 12 hours.  All told, we have drilled and described over 1400 meters of mud from this site alone!  That is almost a mile (0.8 miles) of mud!  If you went outside with your mommy and walked for about 15 minutes in a straight line you would walk as far as we have drilled!
Tomorrow I will talk about the fish that visit the ship while we are out here.  They are beautiful and I think you will like hearing about them.