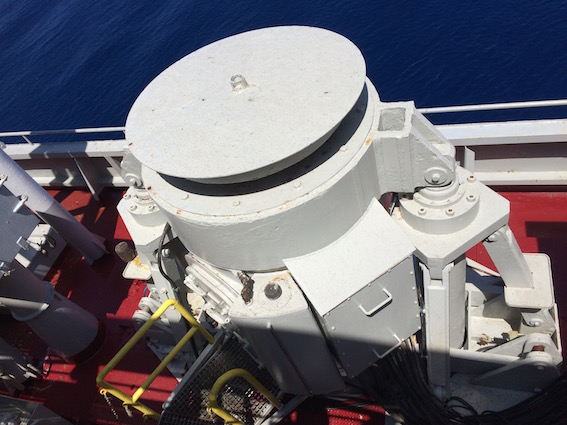 Thruster Pod – Sat, May 20
This is a single thruster pod that houses two propellers – remember these are controlled by the dynamic positioning system, and hold the ship's position over the drill site. It is not easy to sense how steady the ship is unless you have a reference point, e.g., looking at something that is also steady. The problem is everything is on the ship or attached to it and therefore moving with it.
I've noticed that near the ship maybe due to some type of wave interference or reflection at a boundary around the ship, there are sometimes some fast, very short wavelength patches of sea surface motion that lack big waves and this is the closest thing to steady. The top part of this photo also shows the calm sea surface with very short wavelength ripples. Compared to these small ripples visible at the sea surface, the JR usually has a longer, slower wavelength motion that is more predictable. You can time the motion; the fastest waves that I can sense are a few seconds apart.
Here is a video posted a few days ago at the JOIDES Resolution YouTube channel of the Dumbo octopus Grimpoteuthis caught on the VIT camera: https://youtu.be/OFyzII0YG1M<
On my list: "Move On Up" – Angélique Kidjo