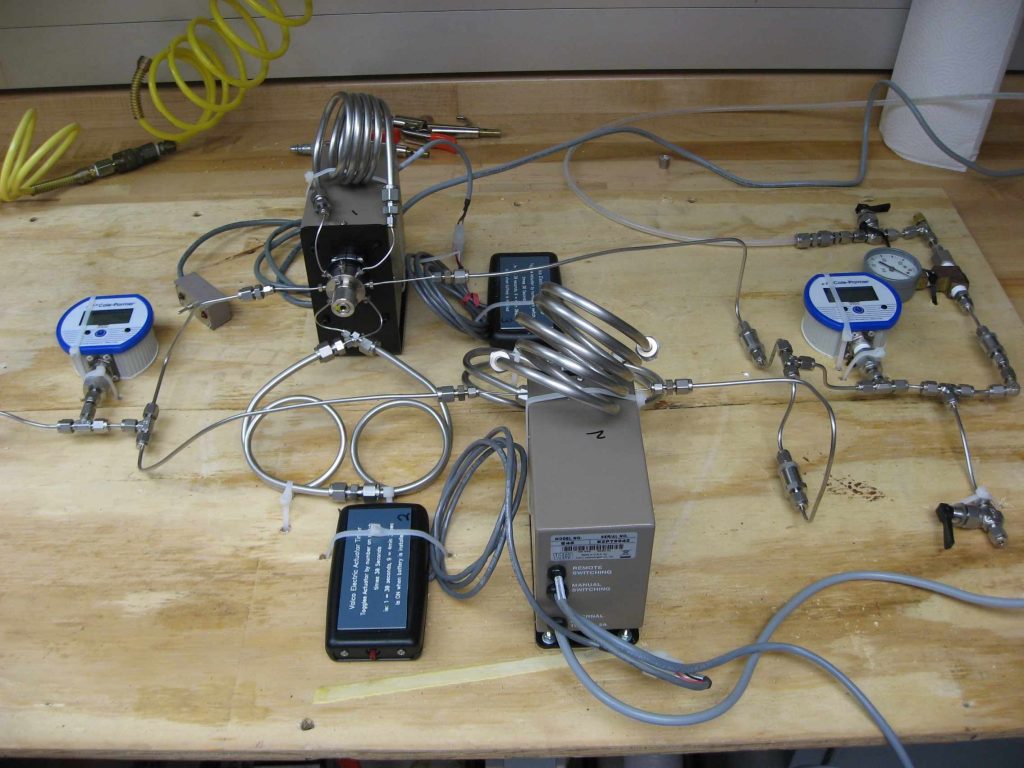 Tracer injection system, Darcy Lab both ready to go
Today I finished with preparation of the tracer injection system, thanks largely to the collaboration of Jim Cowen, Dustin Winslow, and Katie Inderbitzen.
We also received considerable help and numerous fittings from the shipboard technical group. Jordan Clark (UCSB) designed the system and provided the key components. I am uploading a photo of the full system in all of its glory. We will install this system in the mud pump room, three decks down from the rig floor, and will set it up to automatically inject an inert tracer during a 24-hour pumping experiment, the longest run in the history of scientific ocean drilling. I'll provide more information about this experiment later as we get closer to the time when it is run.
I finished preparing the Darcy Lab for the education and outreach program. Actually, just about anyone onboard might want to run the lab exercise, as it is fun and interesting as well. Later in the cruise, we will run a related "tracer breakthrough" experiment. I participated in a training exercise on inquiry based learning, taught by the amazing Leslie Peart, really got me thinking about how to change the way I present course material. I'm excited about having a chance to try out new teaching techniques out here, as it is a challenge to do this while I'm in the middle of a full course at UCSC.
I also finished editing a manuscript and returned it to one of my students, who is preparing it for submission to a peer-reviewed journal. I am working on another student's paper, then can get to a proposal and a paper I've been wanting to work on for a while. We also need to pressure test the CORK observatory systems – I'll provide a separate entry (or several entries) on CORKs later.
I've been enjoying the food, still lots of fresh veggies and fruit, and the cooks made a terrific paella last night. The challenge is to make sure to get to the gym on a regular basis. I'm also going to try to get to bed earlier, as I've been getting perhaps 6 hours of sleep/night for the last week or so. I don't feel especially tired, but know that more sleep would be better, and we still have a long way to go.