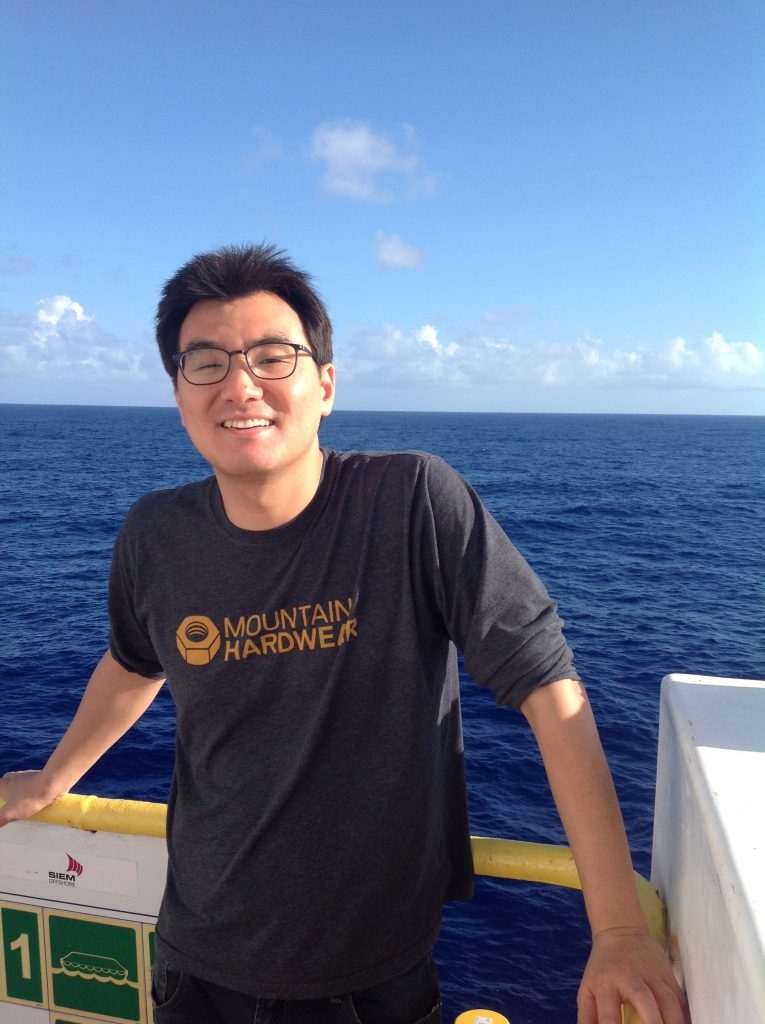 Very Thin-Very Nice: Thin Sections Explained by Jung Woo Park
What happens to the stones in the working halfs of of the cores being analyzed on board of the JOIDES Resolution? Actually some of them are selected to be cut into very thin slices of only 30 micro-meters (about as thin as a sheet of paper) for further investigation already on board. This so called "thin sections" can be used by scientists of the "Core-Description-Team" for further investigation. One of them is Jung Woo Park, putting them under a polarizing-microscope.
Was geschieht mit den Steinen, die in den Arbeitshälften der Bohrkerne gefunden werden? Einige besonders interessante werden ausgewählt, um sogenannte Ultra-Dünnschliffe anzufertigen. Diese sind dann nur noch 30 Mikrometer (wie ein Blatt Papier) stark und werden auf einen Objektträger geklebt. Die Wissenschaftler des Core-Description-Teams können dann weitere Untersuchungen vornehmen. Dazu werden die Ultra-dünnschliff- Präparate unter ein Polarisationsmikroskop gelegt, wie Jung Woo Park uns hier vorführt.

This type of polarized light shows the minerals inside the thin plate in a different way, as Jung Wong Park explains. Even colors can change. One of the most beautiful minerals to look at under the microscope his pyroxene, which appears in shining blue.
Das polarisierte Licht durchstrahlt die Dünnschliffe und zeigt die Mineralien auf eine ganz andere Art  und Weise als das normale Tageslicht. Auch die Farben können sich dabei ändern. Eines der schönsten Minerale ist Pyroxen, der in den Proben enthalten ist und im polarisierten Licht blau erscheint.

Also the aragonite crystals look very nice, as Jung Woo Park explains. By comparison to reference-samples or even due to their experience only, scientists can now define the composition of the sample very exactly.
Auch die weißen Aragonit-Kristalle sehen im polarisierten Licht ganz wunderbar aus, wie Jung Woo Park erläutert. Mit Hilfe von Referenz-Proben oder einfach aus ihrer Erfahrung heraus können die Geologen die Zusammensetzung der Probe jetzt noch besser beurteilen.