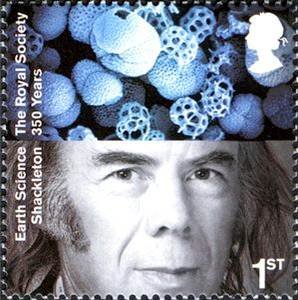 We arrived at Site U1385 (SHACK-04)
We arrived at Site U1385 located in the Portuguese Margin (Lat. 37° 34.3'N, Lon. 10° 59.6'W) at 04:00AM and the set of 12 hydraulic thrusters was drop down into the water to stabilize the ship. At the moment drill string is being deployed and a TV survey was done to ensure that the seafloor, at a water depth of ~2590 m, is free of obstructions, cables, and other debris before coring operations begin.
Drilling at this site, aka the "Shackleton Site" in honour to Sir Nicholas Shackleton, will allow the scientists to obtain a marine reference section for terrestrial-marine-ice core correlation. The study of the sediments recovered at this site will allow to compare the Quaternary climatic oscilations recorded in marine sediments, with the records already obtained from continental sediments and ice cores, from Greenland and Antartica, integrating them into a common stratigraphic framework.
Chegámos ao sítio U1385 ??localizado na Margem Continental Portuguesa (Lat. 37 ° 34,3 'N, Lon. 10 ° 59,6' W) às 4 horas da manhã e o conjunto de 12 propulsores hidráulicos foi colocado na água para estabilizar e manter o navio no mesmo local durante as operações de perfuração. A coluna de tubos de perfuração continua neste momento a ser enviada para o fundo do mar e foi realizado um levantamento com uma câmara de vídeo para garantir que o fundo do mar, situado a aproximadamente 2590 m de profundidade, está livre de obstruções, cabos e outros detritos antes de se dar início às operações de perfuração.
A perfuração deste sítio, também conhecido como o "Site Shackleton", em homenagem a Sir Nicholas Shackleton, permitirá que os cientistas obtenham uma secção marinha de referência para a correlação de testemunhos de sedimentos terrestres e de gelo. O estudo dos sedimentos recuperados neste local permitirão comparar as oscilações climáticas do Quaternário que estão registados nos sedimentos marinhos, com os registos já obtidos a partir de sedimentos continentais e tarolos de gelo da Gronelândia e Antártica, integrando-as num enquadramento estratigráfico comum.