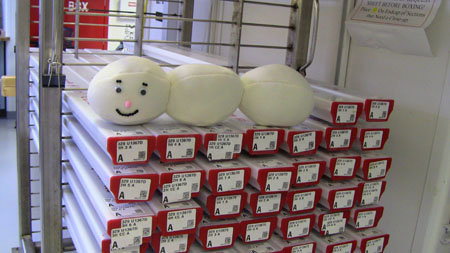 Hello! During Expedition 329, many sediment and rock cores were recovered and are now stored on the JOIDES Resolution. The cores are first placed in a plastic protective tube called a "D" tube because of its shape. The D tubes are then put in cardboard boxes and placed in the refrigerated room on the JOIDES Resolution. When we reach port, the boxes will be taken off the ship and sent to Texas A & M University in College Station, Texas. They remain in a large refrigerated room until a scientist needs them. Scientists from all over the world can visit Texas A & M and sample the cores for their research.
If you look closely at the photo below, you can see land through the early morning haze, as we approach New Zealand.
I'm sad to say that this is my last blog of Expedition 329. I have enjoyed bringing you news of what has happened over the past two months and I hope that you now have a better understanding of what oceanography research is all about. You might want to think about becoming an oceanographer and perhaps even sail on the JR. We will reach New Zealand very early tomorrow morning.
Good Bye!
J.R. Microbe