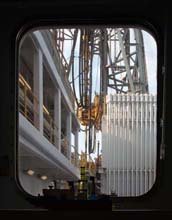 We've Made it Past the 920-Meter Mark!
There's a beautiful view outside my window this morning. From the curator's office where I work, I can see the drill pipe extending down into the rig floor – and the pipe's spinning! And every once in a while, I see the drill crew add a new section of pipe. That means we're advancing deeper into Hole 1256D. Finally!
Last night, on our seventh trip into the hole, we broke past the obstruction at ~920 "mbsf" (meters below the seafloor) that our drillers had been battling since the first day our expedition re-entered the hole on April 19. By 6am this morning, the drill string had already reached 1000 meters below the seafloor – and was still advancing.
Six times over the past two weeks we had entered the hole, and six times we had had to pull the drill string back out of the hole without advancing past the obstruction near the 920-meter mark – despite our drillers' best efforts. In 2005, Expedition 312 had also experienced challenges getting past this same depth. And that expedition had re-entered Hole 1256D just three months after Expedition 309 had finished drilling in the same hole. (312 is the last expedition to have drilled 1256D before our return this spring).
The bottom line? Hard rock drilling is hard work! You need always to be prepared for new challenges.
Our co-chief Damon Teagle summed it up best in a message sent early this morning:
"Shortly before midnight the bridge at 922 mbsf surrendered to the patient and persistent skills of Sam, Ron, Mark, Wayne, Craig, Mick, and their teams. Progress deeper into the hole has resumed. Without doubt Hole 1256D will respond with further challenges but fingers crossed for smooth drilling. The Science Party is extremely grateful for the tenacious efforts of the drilling team.
To the gabbros and beyond!"
[Photo by Bill Crawford]