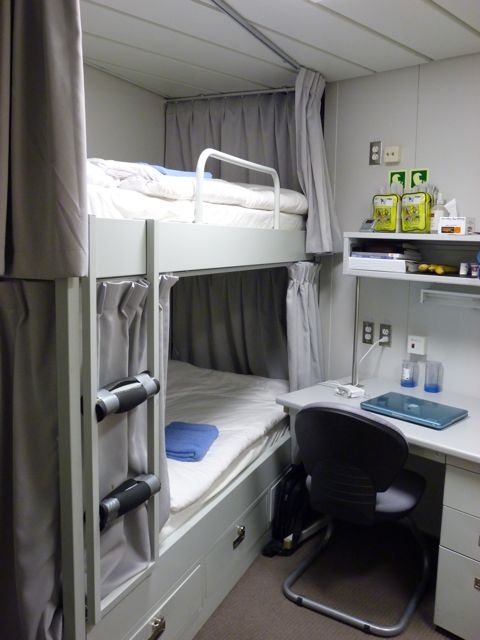 What Everyone Really Wants to Know
What are the cabins and bathrooms like on the JR? The cabins are nice and cozy. Each has a set of bunk beds with mattresses, sheets, pillows, comforters, lights for reading and curtains (to block out the cabin lights). They are really quite comfy. We also have a desk and chair, three drawers under the beds for clothes and suppies, and two lockers. Stowed above the lockers are PFDs (lifejackets), immersions suits (warm, neoprene suits in case we have to abandon ship) and a hard hat. The space is small, but has all of the necessities. Each cabin also has a sink, medicine cabinet and plenty of hooks to hang towels and jackets on. Most cabins share a toilet and shower with the cabin next door. The water pressure in the showers is amazingly strong and we don't have to worry about running out of hot water. The JR even provides soap and towels!
The toilets (aka "heads") are pretty good on the scale of marine toilets. They operate by vacuum, so to flush them, you just push a button and away everything goes. They operate similar to toilets on airplanes. However, they break fairly easily, so there are some rules: only toilet paper–the kind wrapped in the green-printed paper–can go in the toilet, only push the flush button once, and if you think you need to, give a "courtesy flush" halfway through your process.
Beyond that, the wonderful JR stewards make our beds and clean our cabins every morning. We get fresh towels and can also have laundry done daily, we just set it outside our door in the morning. Our clothes are delivered clean and folded in the afternoon. What more could we ask for?