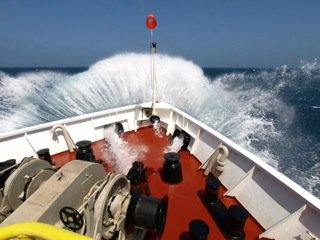 PRESENT ACTIVITY: Update as of 0700 hours 4 April 2010: Underway for Victoria B.C. on a bright and sunny Easter Sunday morning.
Maintaining a north easterly course of 45° at an average speed of 8.5 knots with variable headwinds at 20 kt occasionally reaching 30 kt during localized squalls. Air and sea water temperatures continuing to fall as we move further north.
WEATHER: Midnight conditions: Heading: 48°; Max Wind: 30 kt @ 50°; Seas: 8 ft @ 6 sec period from 50°; Swells: 12 ft @ 10 sec period from 80°; Sea Water: 22.2°C; Barometer: rising @ 1023 Mb; Air: 22.0°C; Max Pitch: 3° @ 6 sec; Max Roll: 3° @ 6 sec. Vessel moving easily in moderate seas, strong breeze, and moderate swell. Vessel moving easily in large confused sea/swell. Partly cloudy skies with good visibility.
CHALLENGE: What's the difference between seas and swells? Remember to send your answer via the comment function below and be sure to include your teacher's name, school name, and address. We'll only publish the school name (for security reasons). We'll send ship posters to the first five correct answers.
More to follow — really — I promise!
Mike