Drilling into the sills of Ringvent was concluded when the worn-out RCB drill bit had turned into yet another potential exhibit for the IODP museum. The last few sill cores from Ringvent (hole 1548C, to be precise) glitter in never-before seen volcanic splendor; carbonate cap rock, deep black, laser-sharp volcanic glass, mineral veins, pyrite and fracture zones in every imaginable variety… as if the dark heart of Ringvent tempted us to drill deeper.  It took real effort and a final mustering of will power to stop. Here, Christophe is looking at these treasures and ponders the might-have beens.
Deep down in the ship, a last rock chipping party begins in the small hours of the morning (very small, ca 1 a.m.). Microbiology has been busy for several days with chopping up Ringvent rock samples from the incredibly prolific Hole 1547E, and this is the last of the lot, tackled by Ginny Edgcomb and your blogger.
The cores are first chopped into hockey pucks, and then every hockey puck has its outer contaminated layer trimmed off. Sometimes the hockey pucks don't turn out well, and odd-shaped pieces have to be trimmed; the smaller and odder the harder it gets.
The trick is not to chop off any fingers; the cruise is not over and they are still needed. With well-aimed strokes, it is possible to process walnut-seize pieces, but with decreasing size the job gets more difficult.
Every crafted rock piece is carefully inspected and evaluated before it goes on the "accept" pile, in the lower left corner on the aluminum foil. There is also a larger plastic bag with "rejects" barely visible further to the left; these contaminated surface pieces may still work for high-temperature cultivation that kills seawater bacteria anyway.
For some risky blows, it is best to stand back. Holding pea-sized rock pieces in place while the hammer comes down with full force is not a good idea. Laurent and company take over after 1.5 hours; later we can congratulate each other to still have all our fingers. With the last of the microbiology rock samples processed, we close this chapter!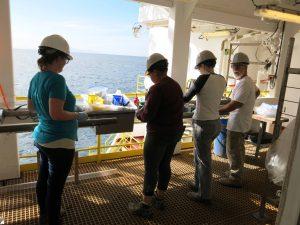 Upstairs, the latest hole into nearby sediment has turned from a scientific and operational improvisation into a serious challenge for sedimentology and chemistry, both the organic and inorganic variety. The fast pace of drilling makes keeping up very hard, even for a wizard like Jeanine, seen here with her sampling tray.
Drilling continues fast and furious while we are waiting for the Mexican permit for dream target Sonora Margin, our very last all-out effort. Mixed news about the permit process come in all day. It would be necessary to get the signatures of the Geostatistics Agency, the National Autonomous University, the Mexican Navy, and the diplomatic note from the Ministry of Foreign Relations. Nothing is decided as the sun is setting; but it also means all options are still open.
This blog post first appeared on Nov. 8 on my daily blog of EXP385. Make sure to go to expedition385.wordpress.com to read the latest updates of this expedition!