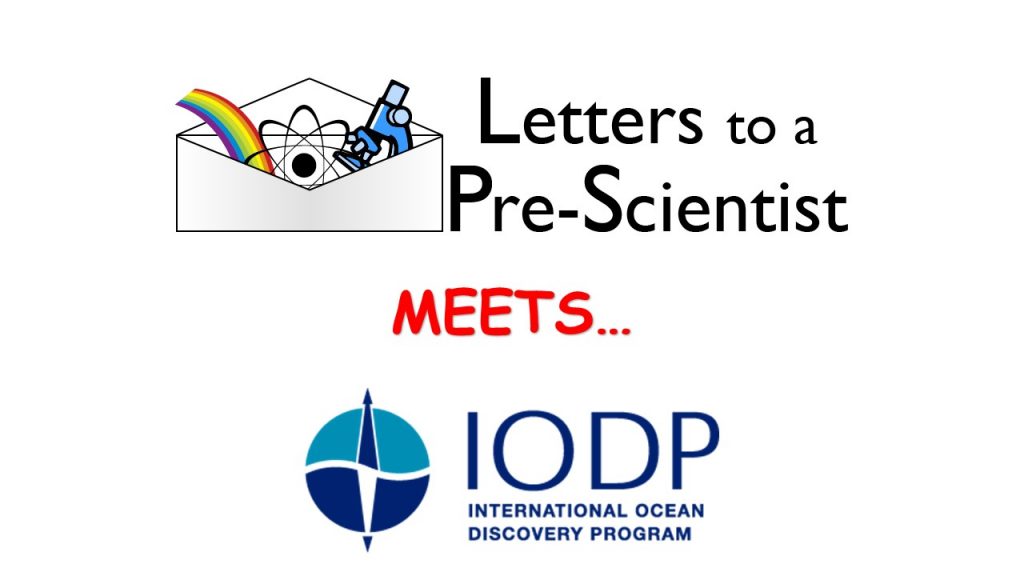 A Meeting Between Scientist and Student-Pen Pal
For all scientists wanting to make positive impacts and promote STEM fields to our future generations, let me tell you about a great program called "Letters to a Pre-Scientist" (http://www.prescientist.org/). This program sets up scientists as pen pals with students from under-resourced communities in order to inspire and empower them to pursue STEM careers. I highly encourage others to join it!
This past year I joined this awesome program and received my first letter from my new pen pal a couple weeks before I came out to sea on the JOIDES Resolution. There was a bit of a delay of when I received my letter because of the wildfires where I live in California. But when I returned home after evacuation orders were lifted and mail was being delivered once again, I received a happy surprise! As it turns out, my pen pal is from a school not too far from where I live, which is kind of cool.

My first letter from my new pen pal.
My pen pal really likes the ocean and ocean animals, so it was super easy to write lots back – I even had to remind myself not to write a whole novel! I immediately wrote a letter to send back (with ocean-themed stickers, of course) and put it in the mail. I now eagerly await another letter from her when I return home from the JOIDES Resolution in the New Year.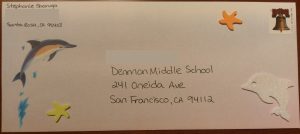 My first letter back to my pen pal.
While out at sea during Expedition 372, I had a unique opportunity to work with Letters to a Pre-Scientist to bring our JOIDES Resolution live broadcasts into the classrooms of several schools that participate in their program. One of those classes was the one my pen pal is in. It was business-as-usual for most of the broadcast – ship tour, scientists talking about our research, etc. – until the very end. But in the last few minutes, I was able to meet my pen pal face-to-face via the broadcast video. It's not every day you get to meet your pen pal, especially when you're literally in the middle of the ocean halfway around the world!

My pen pal (in her classroom) waving hello to me…

…and me (wearing a headset that we use for the broadcasts) on the JOIDES Resolution.