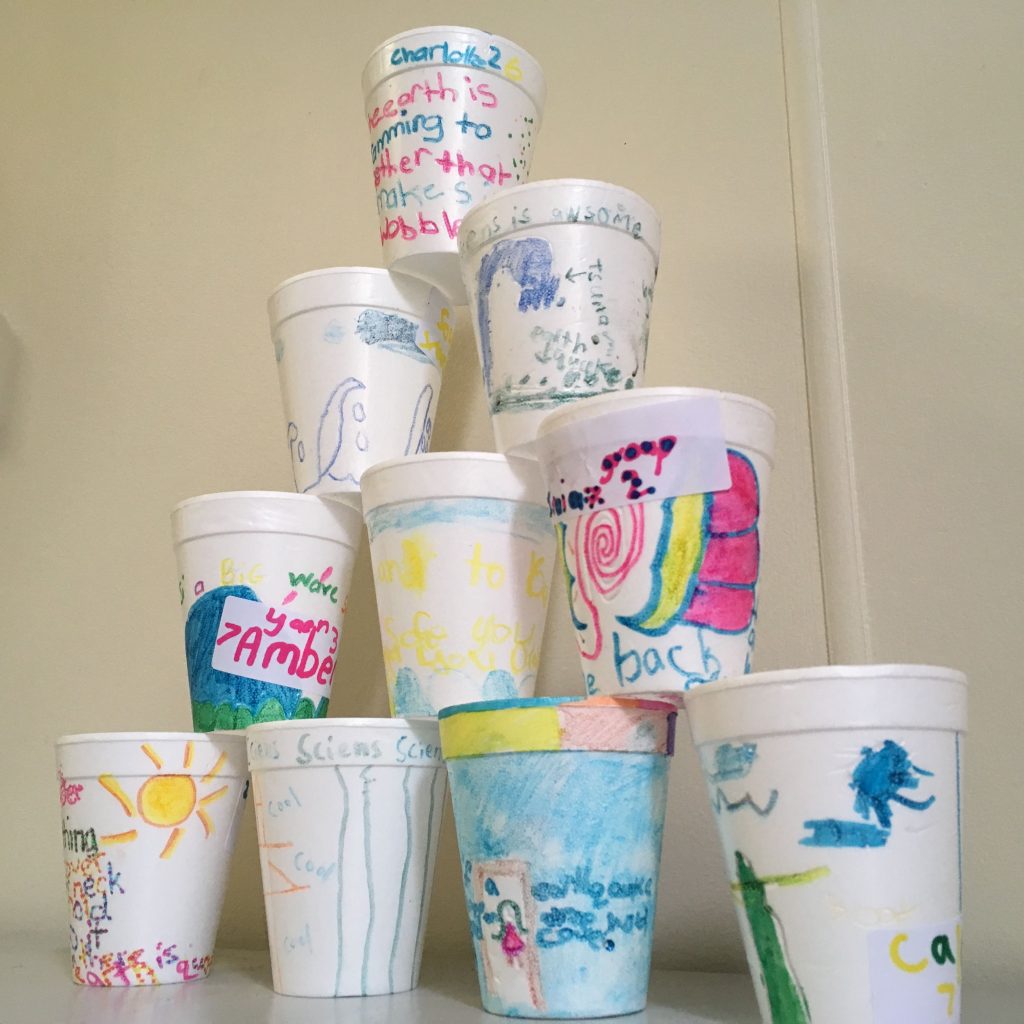 Earlier this year, East Coast LAB (Life at the Boundary) and GNS Science in New Zealand ran a competition for primary school students from the Gisborne region – just onshore from the EXP372 sites – to promote awareness of the Hikurangi plate boundary. Students had the opportunity to create artwork on styrofoam cups and I've brought the submitted entries on the JOIDES Resolution to send them to the seafloor. The pressure at the bottom of the ocean from all the water above and around the cups shrinks the artwork uniformly so that the original cups are only a fraction of their original size when they come back to the surface. This works because styrofoam is mostly air! As the cups descend to the seafloor, the air gets uniformly squeezed out, leaving a miniature cup behind.
The Hikurangi subduction zone, a type of plate boundary where one plate dives beneath the other plate, is capable of generating a magnitude 8.4 earthquake that, in addition to widespread ground shaking, is also likely to produce a tsunami, coastal uplift and subsidence, landslides and liquefaction. The Hikurangi plate boundary has been the target of science projects from scientists in New Zealand and around the world – IODP Expedition 372 is just one of many current science projects occurring along the Hikurangi subduction zone!
After the JOIDES Resolution arrived at the first Expedition 372 site, we were able to send the Art Under Pressure entries to the bottom of the seafloor. IODP has been sending artwork down to the seafloor since the early days of the program (then called Deep Sea Drilling Project) in the early 1980s. Check out what happened this time around!!
Information about other ocean-based science projects targeting the Hikurangi subduction zone can be found at the following websites:
East Coast LAB: http://www.eastcoastlab.org.nz/our-science/our-projects/
GNS Science: https://www.gns.cri.nz/Home/Our-Science/Earth-Science/Ocean-Floor-Exploration