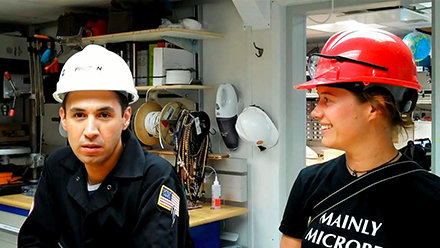 When we left port, there was sort of a "hurry up and wait" atmosphere about the ship. This expedition has been many months—years, really—in the making, so once everyone was finally onboard they were ready to get working! Unfortunately, there was a four-day transit to the study site to ride out before the real operations would get underway.
We arrive onsite tonight, though, so everyone is now busily preparing things for our first operation: removing the CORK borehole observatory that's already installed at Site 395A. What does that mean…what is everybody actually doing? Everyone has a different job to do to make sure that we're ready to go once we get there. These jobs include testing and calibrating the lab equipment, assembling the sampling equipment, sterilizing and organizing the sample collection and storage containers, and reviewing the procedures.
Watch the video to get an idea of the variety of things people are doing to prepare for tonight, and for the rest of the expedition.