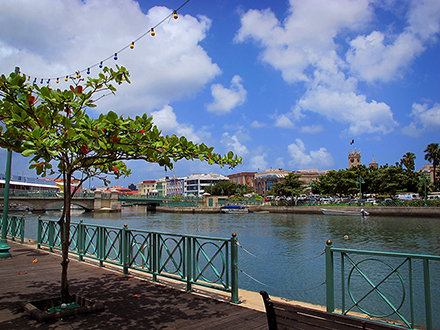 10 things I learned about Barbados
Before this trip, I had been to Barbados once before, when I met the R/V Knorr here for a cruise in 1996. That time, I saw only the airport, hotel, and dock. I have always regretted the missed opportunity, and this time I was determined to see more of the island. I went to Bridgetown and found a local cab driver named Garfield, who showed me around and taught me a little bit about his beautiful island. Here's what I learned:
The name Barbados means "bearded one" and refers to the long, hanging roots of the bearded fig-trees noticed by the Portuguese when they came to the island in the 1500s on their way to Brazil.
Unlike most of the other islands in the Eastern Caribbean, Barbados is not volcanic in origin, and is therefore relatively flat. It was formed instead by sediment being scraped off the South American plate as it slowly plunges below the Caribbean plate. Coral reefs then grew on this sediment and were pushed ever upward and out of the water, giving Barbados its name (the coral island) and its beautiful beaches.
Barbados was a British colony from the early 1600s, and gained its independence in 1966. It still functions as a constitutional monarchy and parliamentary democracy, just like Canada. Elizabeth II is the Queen of Barbados.
Barbados is home to the West Indies championship cricket team, who were the world champions from the 1970s through much of the 1980s. Cricket has been played in the West Indies since the late 1800s, and continues to be a popular sport today.
The population of Barbados is over 284,000, most of who live along the coast. Not surprising, with the island's miles and miles of beautiful beaches! With an area of roughly 430km2, it's one of the most densely populated countries in North America.
Sugarcane was historically the mainstay of Barbadian economic activity, although it has been surpassed by tourism and manufacturing in recent years. If you were to drive across the middle of the island, you would still drive through expansive fields of sugarcane.
The government of Barbados long ago decided that their young minds were one of their country's best resources, and should be fostered and developed at home. They have close to a 100% literacy rate; school is compulsory through age 16 and free through university.
Houses are preferably made of stone to withstand hurricanes, but are often made of wood due to cost. Lumber was historically imported from Canada and the US, but hardwood is now more frequently being imported from Guyana.
The Parliament buildings, which are over 300 years old, were built from rocks of limestone and coral; no paint was used.
Most cars are imported secondhand from Japan and Singapore. Residents choose smaller, more fuel-efficient models due to the rising cost of fuel. We tried to find a Dodge (because Garfield asked what I drove), but we never saw one.