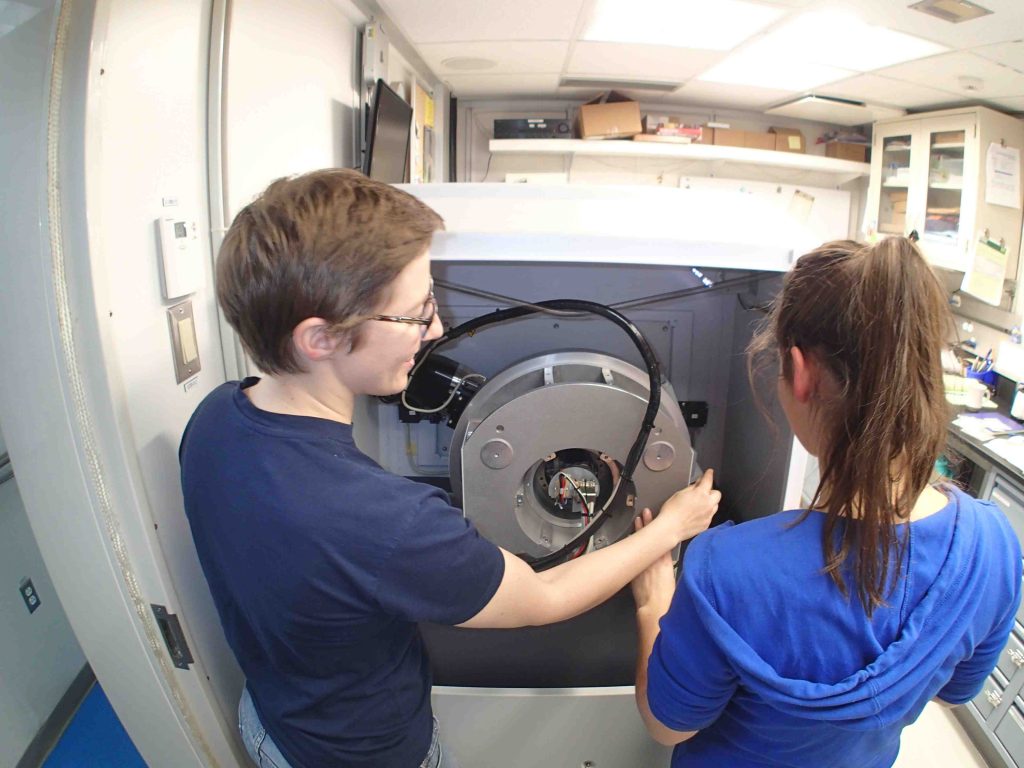 Lately its been a little bit bothersome just getting around in the lab stack and leaves us feeling as if we are mice in a maze and simply "can't get there from here."  The top of the main stairwell has been closed off for some repair work.  This means we are forced to use the elevator, which is usually reserved for freight and moving bulky items, or have to go around the ship and use outside walkways.  The cranes have been working everyday and there is also welding and repairs happening on the ships exterior so occasionally those outside walkways get blocked as well!  A perfect excuse for being a little late to a meeting….
At the end of this month the JR will be hosting over 20 teachers and educators from all over the world for the "School of Rock."  Lots more info can be found throughout the JR website but basically it gives teachers and opportunity to live and work on the vessel for a week, get their hands dirty with real core samples, enjoy our soft serve ice cream machine, and experience what its like to be a scientist on board.  We just had our cores delivered to the ship all the way from the Gulf Coast Repository in College Station, TX so that the educators can get the full experience working with actual cores.  Hard work is being put in by all the technicians to get the labs back in working order before their arrival.
This week I have had the pleasure to begin training a fellow technician in my specialty, the X-ray diffraction (XRD)lab.  I will be relocating to the thin-section lab so for now I am showing Nicolette all the ins and outs to XRD.  From sample preparation, labeling, maintenance and repair, crushing, milling, grinding, dismembrating, she will be an expert by the time our tie up period is over.
Another Sunday braai was held by the catering staff to accommodate finishing the flooring repairs in the galley.  We have all been enjoying the luxury of being attached to land which means the catering staff is able to keep us well stocked in bananas and fresh fruit the whole time!  This is actually really nice for us to be able to have fresh produce past the 2nd week of an expedition when normally all food is purchased in advance for the full 2 months.