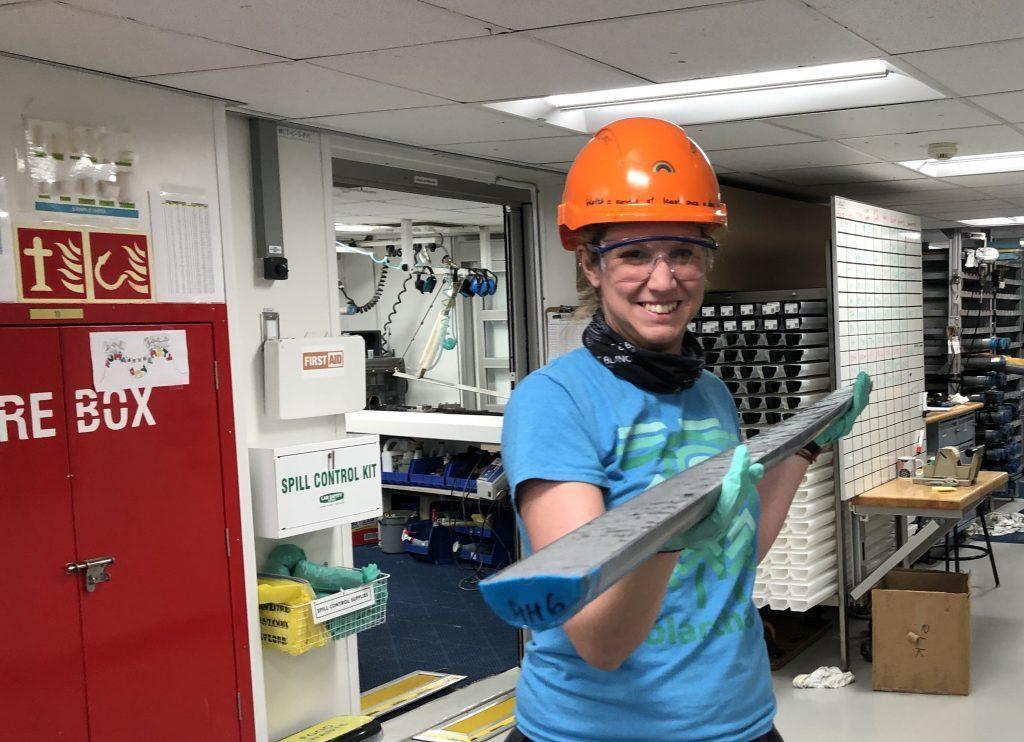 Career Spotlight: Core Technician Elisabetta Olivo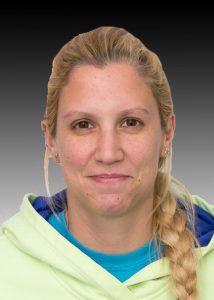 Elisabetta Olivo Interview
Please describe your job duties while on the JR. What will you be doing on a daily basis?
I am a temporary technician onboard. My main duties are to assist with the core deck flow: taking the cores when they arrive on deck and carrying them through the catwalk, cutting, engraving and labeling them. After a few hours, and after the first round of measurements, I help split the cores, and when the scientists end all the description and measurements, I put the cores in the D tubes and box them. I also help with the inventory in each lab.
Describe one instrument or tool that is essential for you to do your job? Or a piece of equipment on the JR that is useful and why – what does it do?
LaserKitty 🙂 It is the instrument to laser and engrave the `names` of each section on the core liner, on both sides of the tube. We need to engrave the code for each of the sections in case the paper label comes off. Maybe this is not the case onboard, but these cores will be studied in the upcoming months and for years after the expedition, not only by the same scientists onboard, but also by the science community. So, the sections need to be easily identified by everyone.
Why is your work (or research) important? What question are you trying to answer or how does your work/research help assist/advance scientific knowledge?
I'm a technician here onboard, but I truly think that without the technical help and support, scientists would have a really hard time doing their research.
Why the ocean? What made you choose a career at sea or career that involves the ocean?
I never thought that I would ever choose a career on the sea before my master thesis. Then, I started working in my institute (OGS – in Trieste, Italy) and 5 years ago, they gave me the opportunity to go onboard for the first time for ten days in the Mediterranean Sea. I really liked it! In the meantime, I started to do my research on Antarctica slope processes. During my PhD, in 2017, I had the chance, and the fortune, to participate in an Italian expedition to the Ross Sea, in Antarctica. We stayed onboard for 64 days…more or less the same thing we are doing now!
What are you most excited about for this expedition and/or being on the JR?
Being onboard with an international and multidisciplinary team, which includes both, the technicians and the scientists. "Doing science" from different points of view.
What are three things you think are needed for a successful expedition at sea? And Why!
Organization: I think is fundamental to have clear objectives in mind and strategies to successfully achieve them. For this purpose, everyone should know what to do onboard and how to do that in the best way possible.
Flexibility: in your work and in the way to connect with people. Sixty days at sea is a really long period of time, in which you only see the same 40 people around you. You don`t have any other places to go and, in this expedition, the weather was so bad that nobody could even go outside.
Chocolate: obvious reasons! 🙂
If you could answer one question about our Earth – what would it be and why?
I wish I could know which evolutionary pattern human beings will follow in the next 100-200 years adapting to the climate change.
What is your favorite sea creature and why?
Penguins! I saw them in their environment for the first time 2 years ago, in Antarctica during the Italian expedition. But I really like also seals: they are really funny and curious.
When did you know you wanted to pursue a career in science or an ocean science career?
I started thinking about a career in science in elementary school, but at that time I wanted to be a math teacher, or a paleontologist (lot of `90s kids are still dreaming to be in the Jurassic Park!). During high school I started to like geology, and I choose that field at university. I started in applied geology for my bachelor and moved to marine geology, then finished in geophysics during my master and PhD.
What do you personally hope to gain or experience while on EXP383?
Learning how to do science "behind the scene". I just finished my PhD, so until now I studied, did research and worked on similar subjects and topics, mostly as a scientist. This time I`m `collaborating` with scientists, and the main theme and objectives of the expedition are different from my usual studies. I hope to acquire practical skills on instrumentation, but also learn new things about different fields from mine (thank you paleo people!) and maybe finding new scientific collaborations.
What message do you have for anyone considering a career at sea or a career involving the ocean sciences?
We probably know more about other planets than about our oceans, so… keep exploring the sea!
What do you do back home when not on the JR?
I will be doing a post doc for 7 months at the same institute (OGS – in Trieste, Italy) where I did my Master thesis and PhD, on data collected in 2017 in Antarctica….but, for the first few days back on land, I will take some days off and relax on a tiny Croatian island!
Do you get sea sick? If yes or sometimes, please also select the other tab and describe how you cope with it.
Not at all (I only skipped one meal on the first day for rough seas)!
The need for space comes in many forms. Which type of space, in general, is the most important to you? 
___Personal Space
___Creative Space
_x_Outdoor Space
___Emotional Space
___Physical Space
___Spiritual or Meditative
___Outer Space
___Community Space
___Quite Space
___Productive/Work Space
___Digital/Virtual Space
___Public Space
___Inner Space
___Other:
 Why that type of space? What makes it important to you and will it be available while on the JR?
I wish I could pick at least three of them, but right now, after almost two months onboard, I definitely chose Outdoor Space., Hiking, trekking, or just walking around are the things that I miss the most right now. It is the type of space that makes me feel most relaxed.
But I also think that emotional and physical space are important too, especially on a ship. And here I really appreciate also creative space, maybe because it is an easy and simple way to show people how I am…so  here I`m also drawing my ants comics, something that I started when I was in high school. I hope you're going to like them!
Betta Ants