Career Spotlight: Micropaleontologist Igor Venancio de Oliveira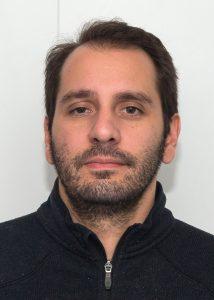 Igor Venancio de Oliveira Interview
Please describe your job duties while on the JR. What will you be doing on a daily basis?
I will be working in the PaleoLab identifying planktonic foraminifera species in order to have an idea about the age of the sediments that we collect on this expedition.
Describe one instrument or tool that is essential for you to do your job? Or a piece of equipment on the JR that is useful and why – what does it do?
The most important instrument for my job is the microscope, because it is not possible to identify the species of planktonic foraminifera without this equipment.
Why is your work (or research) important? What question are you trying to answer or how does your work/research help assist/advance scientific knowledge?
Paleoclimate studies are important because it gives us an idea of the possible climate scenarios that can occur again in the future. So we need to better understand the past in order to be able to make better model simulations for the future climate. My main interest is to understand paleoceanographic changes in the South Atlantic and how it influences the global climate.
What made you choose a career at sea or career that involves the ocean?
When I was a kid, I had a few experiences sailing in optimist classes (a small, single-handed sailing dinghy) and, since then, I like all experiences related to the ocean.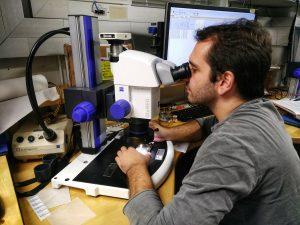 What are you most excited about for this expedition and/or being on the JR?
It is my first expedition with the JR and I am excited just to be onboard, but I am also excited about the excellent sediment cores that we will get!
What are three things you think are needed for a successful expedition at sea? And Why!
Team work because we need to share information between different groups in order to understand the records.
Good laboratory facilities so we can extract good quality data from the cores we collect.
A multidisciplinary team of scientist that can provide different information about the records.
If you could answer one question about our Earth – what would it be and why?
How will Earth's climate change in the future? We need to know this in order to be prepared for future changes.
What is your favorite sea creature and why?
Forams – because my work is studying the ecology of planktonic foraminifera and the application of proxies using these organisms.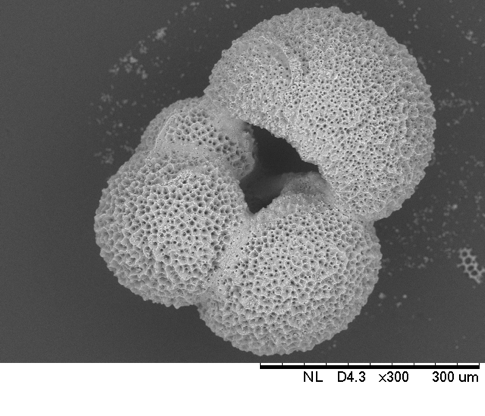 When did you know you wanted to pursue a career in science or an ocean science career?
In 2009, when I was doing my studies at the Universidade Federal Fluminense (UFF) in Brazil and joined a research group focused on paleoceanographic studies. I was fascinated about the topics that the group was studying and I decided that I wanted to work on these topics too.
What do you personally hope to gain or experience while on EXP383?
To learn more about biostratigraphy of foraminifera and about general description of sediment cores.
What message do you have for anyone considering a career at sea or a career involving the ocean sciences?
If you are interested in a career in ocean sciences you should pursue it! There are many interesting topics in this field of research and going on expeditions at sea is just great!
What do you do back home when not on the JR?
I work as a postdoc in the National Institute of Spatial Research (INPE – Brazil). Besides that, I like to play football with my friends, read good books, going to the cinema, travel, etc.
Do you get sea sick? If yes or sometimes, please also select the other tab and describe how you cope with it.
The need for space comes in many forms. Which type of space, in general, is the most important to you?
___ Personal Space
___ Creative Space
___ Outdoor Space
___ Emotional Space
___ Physical Space
___ Spiritual or Meditative
___ Outer Space
___ Community Space
_X_ Quite Space
___ Productive/Work Space
___ Digital/Virtual Space
___ Public Space
___ Inner Space
___ Other:
Why that type of space? What makes it important to you and will it be available while on the JR?
I like to have some quite space so I can be away from the chaos and to be able to relax. I think that on the JR we can have this kind of space, which is a good thing for me.