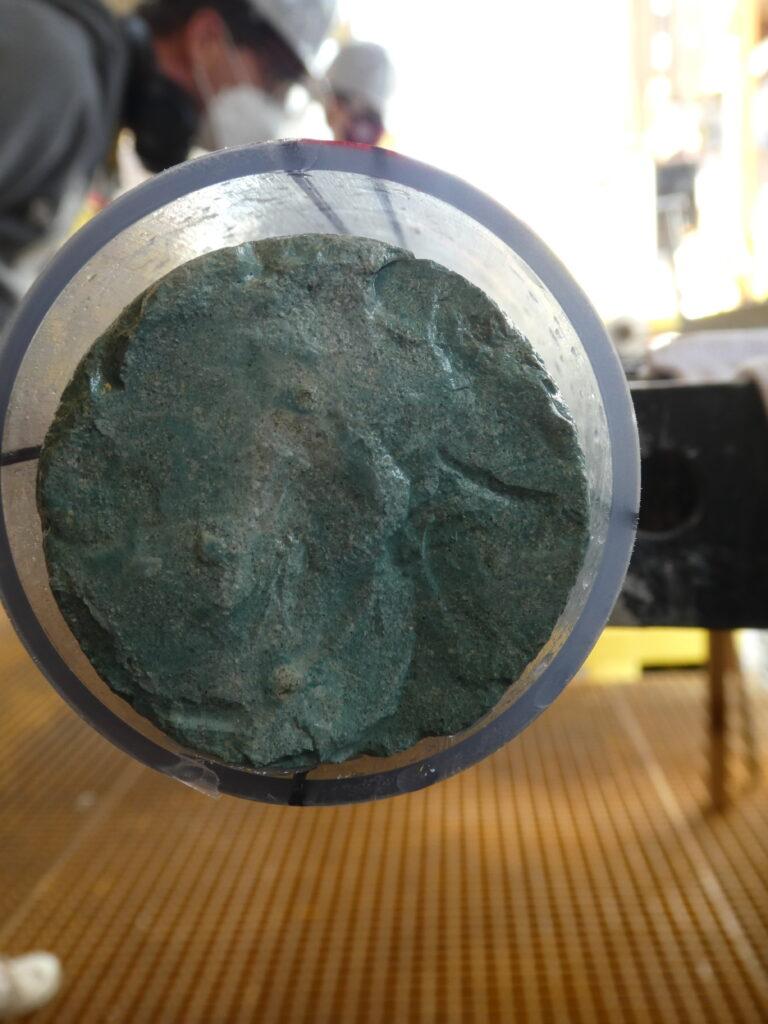 Co-Chief Gabi's Update Week Four
By Gabriele Uenzelmann-Neben, Co-Chief Scientist, Expedition 392
Drilling at the first site has been terminated. We reached 20 meters into the basalt—enough to characterize the basalt at this location and compare it to basalt that we hopefully will recover at other sites.
Although we stopped drilling, we did not set off for the next site until the drill hole was logged. This entails that a sonde, or rather a string of sondes, be lowered into the borehole to measure not only its depth but also natural gamma ray, density, porosity and seismic velocity among other parameters of the subsurface material. This same data has been measured from the cores we retrieved. A comparison of these two datasets will allow a direct correlation of the geological information from the cores with the subsurface. Logging data are very important to complete our picture. In total, logging took about 24 hours to complete.
As we headed for the next drill site, 98 kilometers towards the southeast of Site U1579, the excitement rose again. We started drilling using the rotary core barrel immediately because it served us well at the first site.
The sediments close to the seafloor are quite sticky, and the plateau does not seem to want to part from them. The 10-meter-long core lines often were not fully filled. This means we are missing information about the geological evolution of this area. A change in lithology also results in better core recovery.
We now see 10-meter-long cores arriving on deck. The cores display changes in color of the sediments. Those color changes represent modifications in the paleo-environment. Some cores further contain documents of bygone life, such as remnants of bivalves.
Again, we drill until we reach basalt, which will tell us more about the formation of the Agulhas Plateau: When did the eruptions happen, how violent were they, how long did they last?
We look forward to the analyses of the material, which can only begin once we are back home in our labs.
Southwesterly Indian Ocean, March 5 2022, 40° 47.1535' S/ 26° 36.4137 E
Photos: With a diameter of only 10 centimeters, cores allow a very small window into Earth history. Sometimes they contain documents of bygone life, such as inoceramids, bivalves which can reach a size of 2 meters in diameter.